Great Dutch Oven Recipes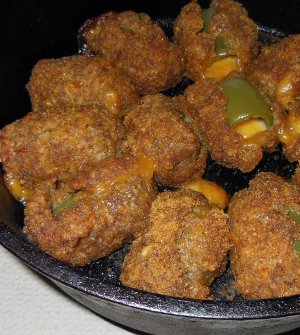 Here it is - my dutch oven cook book with lots of dutch oven recipes. Everything from chicken recipes to dessert recipes for you to have a go at on your next camping trip. Dutch ovens let you get away with easy cooking so give these a try. I'd love to hear back from you on your results or if you have questions about any of these dutch oven recipes.
I'm always looking for more to add, so drop me a recipe if you have one to share.
You can purchase my dutch oven cookbook that has 66 of my favorite recipes. It's a great gift, especially for a newbie dutch oven master!
For help with dutch oven temperatures and coal placement, see my Heat Settings page.
---
If you want to cook a hearty chicken dinner or an easy dessert in your dutch oven, these recipes will help you create great food for your friends. My dutch oven cook book is free for you to borrow from. Let me know how your dutch oven recipe turned out. If you have a request for specific recipes, just ask and I'll put one in this dutch oven cook book for you.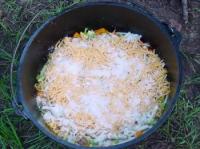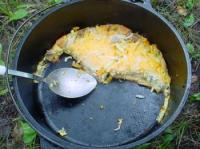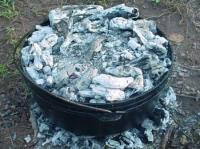 ---
Comments:
Oct 06, 2015 - reta smith
Love all the great info. Really enjoyed your site.
---
Oct 21, 2015 - sara
thank you so much! amazing recipes, you're awesome
---
Nov 20, 2015 - Lori
This is such great info. Just wondering about how many servings you'd say you get from these recipes.
---
Jan 28, 2016 - charlie melancon
Love your site. Thank you so much. Enjoying this
Cast iron cooking.
---
Feb 17, 2016 - John
Any tips or favorite recipies for doing a pot roast in a dutch oven? Great site!
---
Feb 21, 2016 - Dutch Oven Dude
Apr 13, 2016 - Michael Barnes
On the front of this recipe page there are some jalapeno poppers it looks like? Do you have the D O recipe for these? They look great! Thanks
---
Apr 13, 2016 - Dutch Oven Dude
Apr 13, 2016 - Michael Barnes
Thank you Dutch Oven Dude. I will make them! They look delicious!
---
Aug 08, 2016 - Marie
I camp with a group of 12-16 every year for a week in the NC mountains, and have had your site bookmarked for many years so I can refer to it again and again. Now the proud owner of 3 well-seasoned Dutch ovens, I'm almost ready leave the propane cook stove at home. The recipes are wonderful, and have brought rave reviews from the campers.
As a side note, I've found flaxseed oil to be the very best for seasoning cast iron. Six or more layers, wiped on VERY thinly between 1-hour bakes in the oven at its highest temperature, have yielded an impermeable non-stick surface that shows no sign of flaking or wearing off.
---
Oct 16, 2016 - Paul Plughoff
The Cowboy Stew is Great!!!!!
---
Mar 05, 2017 - Jordan
Does your cookbook include some of the tips for caring for the DO and heating settings etc??

Thanks for an awesome product!
---
Mar 13, 2017 - Dutch Oven Dude
@Jordan - Yes, it does.
---
May 24, 2017 - Christina
I got my Dutch Oven in November. I first used it this past weekend. I totally winged it add made venison stew. It was excellent. We just used coals from the fire, it was done well before usual camp dinner (4:00). I had to call the clan back from fishing. :( Anyway, I'm so looking forward to learning how to use my oven properly. I'll try with briquettes this time, but I hope to use wood coals so I don't have to buy them. That might not fair well with timing. But, I hope it can be learned. Thanks for posting your recipes for free. I think I need your cook book though! Excellent site, I have visited a few looking for recipes. I don't have to look any further. This is perfect! :)
---
May 26, 2017 - Cristy
What size DO do you use for your recipes?
Some of the recipes that I have looked at doesn't specify.
---
May 27, 2017 - Dutch Oven Dude
@Cristy - every recipe page has text at the bottom stating "All recipes use a 12-inch dutch oven, unless specified."
---
Jun 09, 2017 - Kerry
I just got a dutch oven and haven't tried using it yet. My family does a lot of backpacking. We need to carry our ingredients for miles and sometimes keep them for days outside the refrigerator. Every dutch-oven recipe book I've seen and every recipe I've found online calls for fresh meat, fresh eggs, and other ingredients that aren't practical to carry on the trail. Can you reccommend recipes that use dehydrated ingredients that backpackers would be able to carry?
---
Jul 06, 2017 - Christina
I am having so much fun with my new cook book. I love love love the lasagna and have made it four times this summer. I've also made the PECS, Bacon Spuds,Bacon Wrapped Chicken Nuggets, Chicken Pot Pie, Fizzy Fruit Cobbler and Sweet Cornbread. The potatoes got rave reviews. I have been trying to make potatoes like that for so long. The Cornbread is also a favorite. I get to get another Dutch soon. Our friend brought his and we paired up to make bread to go with the lasagna, and we made the potatoes and cornbread to go with our fresh caught fish. So yummy! Our friend also has three other cook books. I still like yours the best! So simple and the photos for each recipe are so great.
---
Jul 07, 2017 - Dutch Oven Dude
@Chrstina - Hey, I'm glad you're enjoying it! Thanks for the comment.
---
Jan 13, 2018 - BR
Dutch oven dude, love you cook book!
I am looking for a chicken and rice recipe I think you used to have on your site. I can't seem to find it. The only part I can remember is toasting the rice with bacon to start and then adding remaining ingredients. Did I get this recipe from you or someone else? If it was you could you please share again? Thank you sir!
---
Jan 13, 2018 - Lynn
Any experience with Corned Beef and Cabbage?
---
Jan 13, 2018 - Dutch Oven Dude
@BR - Must have been somewhere else. Sorry.

@Lynn - Yes, my only experience is that I don't care for cabbage. :-) So, I don't have a recipe for it, but any normal oven recipe works just fine in a dutch oven.
---
Aug 10, 2018 - Rick Lane
I have just started dutch oven cooking this year. I just ordered your cookbook. Are the recipes that are found here on your website also in your cookbook? Also thank you for all the great looking recipes here I am excited to try them.

Wish me luck!

Rick
---
Aug 12, 2018 - Dutch Oven Dude
@Rick - Some of the recipes here are in the cookbook, but not all of them. I'm making Enchiladas tomorrow night. :-)
---
Sep 11, 2018 - Joseph Hannum
Just learning to use Dutch ovens. Would love your book
---
Sep 02, 2019 - Anthony Almerigi
I just wanted to say thanks Dude! We camp a lot and use a Dutch oven almost exclusively for about 8 years now. Your book and website is awesome for all of our meal planning. My family always compliments my cooking and brags about how good of a camp chef I am! We never have any leftovers and the servings are spot on. I can't imagine camping without my DO- so many people around us were just having hot dogs and hamburgers all weekend. I hope you have plans to publish a new book with more recipes and include all the ones from this website. Thanks for all the great meals - my family and friends Thank you too!
---
Oct 25, 2019 - John
I have heard about folks using a metal pan (set atop a few pebbles so it is not in direct contact with the bottom of the DO) to hold food while it is cooking. Can Pyrex be used?
---
Oct 25, 2019 - Dutch Oven Dude
@John - I'd never use glass outdoors and I'd never use glass in a dutch oven. The risk of thermal shock breaking the glass is too high.
I expect you could use Pyrex as you describe - much like placing it inside a kitchen oven - but I would stick with a much safer pie tin.
---
Aug 22, 2020 - Chris Thompson
Ive made soooo many of these recipes! been a fan for a long time. ill send you some of my own recipes once i get them just right. today its bourbon street chicken in my 12 inch dutch... more to come soon on that one. Thank you for the site and cook on!!
---
Feb 08, 2021 - Steve Yannone
First time on your site and going to checkout a chicken/turkey recipe for tomorrow. Wish me luck
---
Dec 02, 2021 - Michael Floyd
I have been using your website for years. Many meals at scout campouts have come from your website
---
---
---


Find more Dutch Oven Resources at DutchOvenDude.com