Choosing a Dutch Oven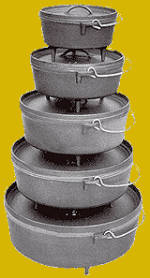 If you are just starting out and want a dutch oven, buy a 12 inch Lodge cast iron dutch oven and you will have a high quality, versatile, camping tool that will serve you well - end of story, go start cooking. Don't compare prices, don't try to find the best deal, just trust me and thousands of other dutch oven cooks that know Lodge is a good investment.
Or, check out some other options if you want...
Griswold dutch ovens were manufactured until the late 1950s when the company went out of business. Collectors still value Griswold dutch ovens. There are other companies that no longer make dutch ovens, including MACA, Wagner, and Vollrath.
Le Creuset dutch ovens are fancy, enameled pots for use in your kitchen oven. They don't have legs for use outdoors.
Dutch ovens come in different styles, metals, sizes, and qualities. Take the following list with you to the store or refer to it when you buy online to make sure you purchase a good, usable item. It's easy to buy the wrong thing so take a few minutes to understand the features and costs of various dutch ovens.
Legs

- your oven must have three legs to keep it off the coals. This lets you set the oven on the ground and slide hot coals under it as needed. Don't accidentally purchase a bean pot kettle thinking it is a dutch oven - you need to have legs.
Make sure the legs are thick where they connect to the oven. Skinny legs may poke through the bottom of the oven if it gets too hot and more ovens are stacked on top. Also, don't get legs that are just short 1/2 inch nubs. The legs should be at least over an inch high.

Bail

- a wire loop attached on opposite sides of the dutch oven. It should be heavy gage wire, not thin, easily bent wire that might melt. The spots where the bail is attached should be molded parts of the kettle, not riveted in place. The rivets can rust out, melt out, or break off. The bail should be easily raised and lowered, not catching on the lid. It should also stand on its own at about a 45 degree angle so it is up and away from the heat and easy to grab with a lifting tool.

Lid

- the lid is an extremely important part of dutch oven cooking. Keep these features in mind:

Rimmed - rim keeps coals and ash on the lid and prevents them from falling in the food when it is removed.
Handle - there should be a handle molded into the center of the lid. It must have a hollow space between the handle and lid so you can slide a lid lifter under it to lift. A handle riveted on or a solid handle with no space will not work well.
Tight-fitting - check that the lid fits snugly on the kettle with no gaps all the way around. This is required to keep steam inside and prevent food from drying out and burning.
Curved - the inside of the lid should be concave so that it can be placed upside down on coals and used as a fry pan or gravy maker.

Kettle

- check that the sides of the kettle are an even thickness all around. Also check the quality of the cast. A cheaper cast may have pits and have more excess metal at the mold seams. A rough surface on the cast is actually ok since it may hold the 'seasoning' better than a very smooth surface when you start to use it.

Type of Metal

- The debate between cast iron and aluminum is still going strong and probably will be for years and years. Please read the next page if you are wondering the Pros and Cons of each type of dutch oven.

Manufacturer

- Lodge is a well-respected American company that makes solid dutch ovens. They have the required features and are good quality casting.
You can find less expensive imports, but the quality of those products has historically been poor. Considering a dutch oven is something you will pass down to your grandchildren some day, spending a few dollars more for high quality is a good investment.

Size

- dutch ovens range from 8 inches up to 24 inches in diameter. The most common size is 12 inches and is great for groups of 6 to 10, depending on the meal. Here is a chart for Lodge dutch ovens and their ideal uses:

LODGE Dutch Ovens

Size
Capacity
(quarts)
Depth
Weight
(pounds)
Dishes
8"
2
3"
11
Side dishes, vegetables, desserts, and sauces for 2 or 3 people
10"
4
3.5"
15
Side dishes, vegetables, beans, small roasts, desserts, and sauces
12"
6
3.75"
20
Roasts, poultry, fish, stews, potatoes, beans, rolls, breads, and desserts
12" D
8
5"
23
Standing rib roasts, hams, whole chickens, stews, potatoes, beans, rolls, and breads
14"
8
3.75"
26
Larger roasts, chicken, stews, potatoes, rolls, breads, and desserts
14" D
10
4.5"
28
Standing rib roasts, hams, chickens, stews, potatoes, rolls, and breads
16"
12
3.75"
32
Large quantities of meat, stews, potatoes, rolls, breads, and desserts
---
Comments:
Mar 24, 2016 - Craig
Great article! For the 12 inch, do you like the 6 or 8 quart?
---
Mar 25, 2016 - Dutch Oven Dude
@Craig - The 8 quart has extra depth that lets you cook bigger chunks of meat, like chickens or roasts, if you think you might do that. But, it's a little heavier and the heat from the lid is farther from shallower foods. That just means you might want to move a coal or two from under the oven to the top and cook a little longer.
---
Mar 26, 2016 - Dave
I was wondering would it be better, if you're not sure what size ta get, should you get the larger 12" 8 quart, and will it still cook the vegetables and other foods like them without burning.
---
Mar 27, 2016 - Jon
I have a 10 inch and 12 inch lodge Dutch oven, I can't find lodge 14 inch Dutch oven anywhere under $200 any suggestions or locations?
---
Mar 28, 2016 - Dutch Oven Dude
@Dave - Yes. See the comment I left immediately above yours.

@Jon - Really? A simple google just now showed them for $90 online and I bet you could find them at a local outdoor retailer, like REI, Gander Mountain, Cabelas, ...
---
Jul 27, 2016 - Jen
My girlfriend and I are vegetarians and love camping. I also happen to love cooking. I'm looking for a double duty Dutch oven that will work for camping and for at home use. Mainly for stews, soups, chili, sides, and the occasional cobbler or dessert. I'm wondering what size would be good for our uses.
---
Jul 31, 2016 - Dutch Oven Dude
@Jen - A Lodge 12-inch camp dutch oven works for me. Make sure it has legs and is plain cast iron, not enameled.
---
Aug 02, 2016 - Terry
I was wondering if you could help me out. We have a 12" dutch oven that we make cobblers in while camping. I would like to know if I double my recipe if that will effect the outcome of the cobbler? Or do I move up in size of the oven? What would your recommendation be for doubling up on my recipe or getting a bigger dutch oven?
---
Aug 02, 2016 - Dutch Oven Dude
@Terry - Doubling the ingredients in the same size dutch oven means the food item will be very thick and will most likely not cook properly in the center. For stews, soups, and such it's ok, but nor for baking and your cobblers would probably not turn out very well.
Since you already have a 12", you could buy a second 12" and cook twice the amount of one item. Or, you could get a 16" and double the ingredients in one pot - but that's heavy and more expensive.
---
Aug 11, 2016 - Robin
I am wanting to purchase one for camping AND home use, are the legs absolutely necessary or would a "bean pot" be ok to use in a camp fire and home as well?
---
Aug 12, 2016 - Gene
Dude, just bought the book. Can't wait to try some recipes. Getting into this DO kick since I was getting ready for a camping trip and i found a 12" Setup by Camp Maid on a deal site. It has a pretty cool lid lifter/holder,a multi-tool stand, and other accessories for using your DO in ways most folks wouldn't even think they could. Are you familiar with them? What do you think?
---
Aug 12, 2016 - Dutch Oven Dude
@Robin - Without the legs of a 'camping' dutch oven, you would need to set the oven on a few rocks to keep it from smothering coals underneath it. Legs really are important - so is a lid with a lip around the top to help hold coals and keep ash from falling into your food.

@Gene - Yes, I've seen the Camp Maid stuff. I've not had my hands on their gear so I can't say how well made it is, but their gadgets appear to broaden your cooking options.
---
Sep 15, 2016 - Rob Morgan
I have enjoyed cooking in Lodge Dutch Ovens for more than 40 years. I have owned as many as 25 Dutch Ovens when I used to cook for groups of up to 500 people. I agree that the 1st oven should be a 12 in. 6 quart. The second, a 10 in. 4 quart and the third a 12 in. Deep 8 quart. This will allow you to easily cook a main course, a side dish and a dessert for groups of 6 to 12 people, depending on what you cook. I recommend that you get the Camp Dutch Ovens with the feet and flanged lids. However, in a pinch you can purchase just a flanged lid that might fit a non-legged Dutch Oven so that you can put coals on the top, and set the oven on a lid stand so that you can put coals on the bottom. But I have often cooked with my Camp Dutch Oven (with feet) inside in my stove without any problem, the feet fit nicely between the rods of the oven grate..
---
Sep 17, 2016 - Jijajojo
You can use a dutch oven without legs when camping, but it's easier if you have a tripod with a chain to hang the pot over a fire. Not as good for baking as it's harder to control the heat, but it's great for roasting, soups & stews.
---
Sep 28, 2016 - Hugo
Is the brand Wenzel a good choice?
---
Sep 28, 2016 - Dutch Oven Dude
@Hugo - There are lots of lesser known brands of cast iron. Many of them are not worth the few dollars less than you'd pay for Lodge. A quick search for wenzel shows some people like them and lots of people don't. Some people say it is made in china, but I don't know. There are many wenzel items for sale on ebay and other online "get rid of stuff I don't want" sites.
---
Sep 28, 2016 - Hugo
Thank you. Now iam stuck with one
---
Oct 05, 2016 - Joey
Dude, what would you recommend for very first-time "sure- fire" meal and/or dessert for someone has never used a DO before? Mind you, this person is highly skilled at messing up even simple things? :-) My wife and I are going camping with our daughter and I'm hoping to literally buy a 12" DO on my way to our tent site (inspired mostly by your site) since there's a couple of Lodge factory stores on our way (honestly, I'm not sure if they're will be any good deals there or not). In any case, I'd really like my first time using a DO to be a success. I'm reading as much as I can from your site, to try to let things sink in. :-)
Thanks for your site, btw.
---
Oct 06, 2016 - Dutch Oven Dude
@Joey - Cowboy Stew and/or Fizzy Fruit Cobbler.
---
Nov 13, 2016 - Alex Corbin
I really enjoy Dutch Oven cooking, but a friend of my mom gave her a 11 inch Dutch oven with legs. It has 11 stamped on the handle. It's been in the attic since the early 80's. But I'm having trouble locating a 11 inch lid for it. I'm not sure who made it, I tried looking at the Lodge Factory store in South Pittsburg for scratch and dent lid sale, but no help. Any ideas?
---
Nov 17, 2016 - Steve
Dutch Oven Dude, I have a Camp Chef triple burner. If I get the DO with legs, will it still cook ok on the Camp Chef? Should I set it on the griddle or just right on the grill? Or should I get the DO without legs? I am looking forward to trying your recipes! Thanks for the great information!
---
Nov 17, 2016 - Dutch Oven Dude
@Steve - You can only do frying or liquid cooking, like soups, on a stove. To cook and bake, you need to have coals on top of the DO. If you get one with no legs, it will sit easier on your grill, but you won't be able to cook and bake with it unless you rig up some rocks or bricks or something to keep it from smothering the coals under it.
I've found that the three legs on a DO usually fit between grill crosspieces just fine and the bottom of the DO rests on the grill. Don't set it on a griddle because it will take forever to heat up.
---
Nov 18, 2016 - Steve
Thank you Dutch Oven Dude! Just bought your book and will get a DO with legs per your advice. Looking forward to trying it out!
---
Apr 09, 2017 - Troy
Looking for a Lodge 16 camp dutch oven. Lodge discontinued them in '13 and I can't find one anywhere.
Can you help me find one? Thanks
---
Apr 09, 2017 - Dutch Oven Dude
@Troy - Some possibilities - look on ebay.com or on craigslist.org for used items. Check with idos.org or find a dutch oven society near you. Or, get a Camp Chef brand instead.
---
Apr 09, 2017 - Troy
Dude: I watch all of them pretty regular with no luck. Is Camp Chef stuff very good (as good as Lodge) in your opinion? Thanks
---
Apr 09, 2017 - Dutch Oven Dude
@Troy - You can't get better quality than Lodge. Camp Chef, TexSport, and other foreign-made brands have poorer reputations, but in general are fine products, I think. Camp Chef's reputation is better these days.
I've seen a few that have irregular casting, and some lids that don't fit well - very, very bad. But, if you check out an item before purchase, you can make sure it's good.
Lodge cast iron is USA-made (except for their enameled items) which alleviates the "China toxic stuff" concern for some.
The only non-Lodge dutch oven I have is a rectangular, aluminum
Woody Dutch Oven
that works great, especially for
enchiladas
.
---
Apr 12, 2017 - Troy
Thanks Dude,
I am just going to try and be patient and hold out for a Lodge.
---
May 05, 2017 - Ron
Dude
Troy can scan the local Facebook for sale sites or local flee markets and local antique shops I found a 16 lodge that way when I had to replace a very large Dutch oven my family used on cattle drives in late 1800 wish I could find another one
---
Jul 06, 2017 - Spencer Arntz
How many serving not quarts does a 12 in DO serve? I'm making a Beef Enchilada casserole.

---
Jul 06, 2017 - Dutch Oven Dude
@Spencer - Well, servings and quarts go together. The number of servings a recipe makes depends on how big a serving is, and the number of quarts define how big of a casserole can be made.
A 12-inch DO is typically either 6-quart or 8-quart capacity, just depending on its depth.
If you made 6 quarts of casserole and figured each serving was 1 cup then you'd have 24 servings. If you said a serving was 2 cups (1 pint) then you'd have 12 servings.
---
Oct 28, 2017 - Brent
I simply wanted to say thanks!
I am new to dutch ovens and this page is exactly what I needed!
---
Dec 11, 2017 - Dave
I have a 10" and a 12" and am now considering something bigger. What do you recommend between a 12"D or a 14"? Both are 8 qt, but I wondered if it is harder to cook in a D vs a regular depth oven. I don't cook large meats like a whole ham or chicken often. I'm more looking for quantity......meats and stews to feed a larger number of people. Thoughts?
---
Dec 11, 2017 - Dutch Oven Dude
@Dave - I don't think it's any more difficult in a deep DO, just a bit more heat on top helps. A 14 would be more useful for what you want. A wider platform would heat faster, allow larger pizzas, more enchiladas, etc. You could stack your three easier, if you like to do that.
---
Dec 29, 2017 - Debra Sheffield
We are trying to find a really large lodge cast iron Dutch oven. My father in-law had a kidney transplant and we held an auction to help with medical bills. Someone donated a large Dutch oven for the auction. We can not find one close to the same size. Any ideas? Thank you !!
---
Jan 13, 2018 - Dutch Oven Dude
@Debra - "really large" is how big? 14 inch DOs are available, but larger than that are harder. Camp Chef makes a 16 inch, and MACA used to make up to 22 inch. MACA left the dutch oven mfg business in 2013, but the Happy Camper site says they can get some made as a special order -
check here
.
Good luck
---
Feb 21, 2018 - Andrew
Do you know if Lodge is planning on bringing the 16 camp oven back? I heard because of the high demand for skillets they had to stop production of less popular items like the 16CO and others. Now they have the new foundry up and running increasing production by 75% I'm finding fewer reasons for Lodge not to have a full line of camp dutch ovens again.
---
Mar 12, 2018 - Mary
Not sure which dutch oven size to get for a larger roast for 12 people. Any specific size recommended?
---
Mar 23, 2018 - Dutch Oven Dude
@Andrew - Lodge 16-inch dutch oven is listed on Amazon.com but not available. It seems that they'd be able to sell a lot of them if they start making them again. Fingers crossed.

@Mary - A 10 quart, 14-inch deep oven could be enough. I would use two 8 quart, 12-inch deeps and make two smaller roasts.
---
Jun 01, 2018 - Myron
I recently inherited a 14" Dutch Oven, without legs. It is contained within a wood crate, primitive nails, no screws, with a sliding top lid that has a metal plate held by hammered rivets as a finger pull with hole for a small lock. Plate is labeled COMPT. C PORT on it. Looks to be bronze or maybe brass, but not corroded. All research to ID this Dutch Oven fails on Google. Is there any expert out there that can identify what I have? No maker name, only crude raised 14 on lid and the numbers are cockeyed from one-another. on top outer edge of lid, 1 groove or dent mark and opposite side on top edge, 2 grooved dent marks. someones forge marking obviously. My brother was the owner, passed at age 69. He was age 10 when the oven was given to him by an 83 year old man, a California rancher and was supposedly that mans fathers. I'd sure like to track down the maker and correct age of this oven. Any help appreciated. Thanks.
---
Aug 08, 2018 - Devon Cloud
I am in search of a very large Dutch oven with legs... pretty sure no one makes them anymore. Any idea on where to look for really large used Dutch ovens?
---
Aug 12, 2018 - Steve
I have #16 lodge Dutch Oven. Was told our mom bought in the 70's.
Could that be true? Anyone know the years they where made?
Thanks
---
Aug 15, 2018 - Dutch Oven Dude
@Steve - Lodge stopped making 16-inch around 2000, then came back around 2003, then stopped in 2013. Other brands are still made.
---
Aug 15, 2018 - Dutch Oven Dude
@Devon - There are quite a few brands making 16-inch dutch ovens. Larger than that are more difficult to find. Ebay often has some available.
---
Aug 20, 2018 - Dave
Wondering if you own any Dutch oven tables and if so do you like the higher walls that lodge offers or the lower ones? I have two 8qt 12's and was thinking on a windy day the higher wall might be helpful. I pretty much have my mind made up but was just looking for reassurance. Ever use any foil liners? I have never but see them and was thinking it may make clean up easy but am afraid it will affect the taste and experience. Thanks in advance, Dave
---
Aug 28, 2018 - Karen Borozinski
Wondering if I can use recipes for a 12" DO in a 10", 4 qt.

Thanks,

Kareny
---
Aug 28, 2018 - Dutch Oven Dude
@Dave - I cook on the ground, no tables. A windbreak is definitely helpful on windy days, but a thin, light sheet of tin (or just aluminum foil) works well for me.
I don't use disposable liners, but occasionally use pie tins, depending on the food.

@Karen - Yes, you would just reduce the ingredient amounts by about 1/4.
---
Jan 05, 2019 - Lawrence Outdoors
I ran into someone who told me that "way back when" Lodge made a 18 inch Dutch Oven. Is this true? I have only ran into the 16 inch version. These 16 inchers must be pretty rare now as on Ebay they are selling for $400-$500.
---
Feb 09, 2019 - Lee R Gates
Very good informative page. Especially on 16 inch Dos.
---
May 27, 2020 - John
I have a 7qt Lodge dutch oven that did not come with a bail. We now want to add a bail to the oven. Any suggestions on how to put a divider in the handle slots (or other method) so the bail will be centered?
---
May 29, 2020 - Dutch Oven Dude
@John - I'm not sure what you're asking about a Divider.
There should be two spots cast into the DO across from each other where the bail is to be attached. All my DOs have the bail attached to opposite sides of those attachment points which keeps the bail centered when lifting. See this
image
that might help where I've enlarged the attachment points.
---
Jun 22, 2020 - Doug p
Any idea if lodge will start making the 16" camp Dutch oven again? Also the 14" shallow would be nice! Any info about lodge re-making these two ovens?
---
Jun 23, 2020 - Dutch Oven Dude
@Doug - Your best bet would be to contact Lodge directly at lodgemfg.com but I've not heard any rumors of that happening.
---
Jul 31, 2020 - Geoff
When they say 10 inch oven is that measured at the top or the base ?
---
Aug 02, 2020 - Laurie
What is the difference between a Lodge Logic camp DO and a Lodge camp DO? On the Lodge site, they only talk about Lodge camp DO's but Walmart and Target sell Lodge Logic camp DO's for less. Is the Logic a lower brand?
---
Aug 02, 2020 - Dutch Oven Dude
@Geoff - inside dimension at the top.
@Laurie - "Logic" is pre-seasoned and I believe all new Lodge cast iron comes that way now - see
this page
.
---
Sep 12, 2020 - Ernest Kavoian
Did Lodge make a #14 deep dutch oven? I already have a shallow one?
---
Feb 23, 2021 - Joby
@Jon I know it's been a few years since your post. The 14" 10 Quart Deep Dutch Ovens are back in stock as of today. Here is a link: www.lodgecastiron.com/product/camp-dutch-oven?sku=L14DCO3
---
Feb 26, 2023 - Tony Robyn
When did Lodge stop putting bales on 10 1/4 8 DOs?
---
---
---


Find more Dutch Oven Resources at DutchOvenDude.com