Seasoning Your Dutch Oven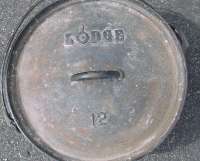 Seasoning a dutch oven does two things:
Prevents rust and corrosion
Creates a non-stick cooking surface for easier clean up
Without a good seasoning coat, your food won't taste as good as it could, your dutch oven will rust, and cleaning up after cooking will be more difficult.
So, are you convinced? Good!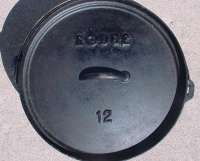 Seasoning is a pretty simple process, but does take an hour or more. It is very important that you season your brand new dutch oven or one you have just acquired.
The initial seasoning will remove any undesirable contaminants and get your oven ready for that first meal. After the initial seasoning, every time you use the dutch oven you will be strengthening the coating and improving the look of your cookware.
By the way, aluminum dutch ovens benefit from seasoning even though they don't rust like iron. Aluminum does oxidize and the seasoning layer will prevent that. Seasoning also makes it easier to clean up due to the non-stick surface.
Initial Seasoning
The first time you season your dutch oven, you are removing a protective waxy coating applied at the factory to prevent rust in shipment as well as starting the non-stick coating process. Some cookware now comes
pre-seasoned
from the factory so you may not need to perform this initial seasoning.
If you have an outdoor barbeque grill, see if your dutch oven will fit inside with the grill cover closed. It is
much better
to season your dutch oven outside rather than in your kitchen oven, but you can do it inside. You'll want to do it on a day when you can open the windows because there will be smoke created.
This is how to season a dutch oven:
Heat your grill or oven to 400 degrees.
This will be only time you will use soap on your dutch oven. Wash your cookware in soapy hot water. Use a scouring pad or steel wool to scrub away all coatings down to the metal. Remember, after this you don't use soap to clean up. (There are other ways to strip a dutch oven - electrolysis bath, vinegar, oven cleaner)
Thoroughly dry the dutch oven and lid with a cotton towel or paper towels. Place it in the grill for a minute or two to really dry it and heat it up a bit. Use an oven mitt to remove the dutch oven from the grill and let it cool just enough so you can touch it.
Rub vegetable shortening all over the inside and outside of your dutch oven and its lid. Use plain Crisco shortening, or canola oil, or flax oil - do not use butter or flavored shortening. Using a paper towel or cotton rag or your fingers, rub the shortening into all the pockmarks, holes, and dimples in the metal surface.
Wipe off all the oil with paper towels or cotton rag. Wipe it again until it looks like there's no oil left.
Place the dutch oven upside down in the grill or kitchen oven and close the door or grill lid.
Place the lid in the grill also so it bakes along with the dutch oven.
Bake the dutch oven for 45 to 60 minutes. Open windows and temporarily disconnect your smoke alarm while doing this because the oil will smoke.
Turn off the grill and leave the dutch oven inside to cool for 30 minutes.
Using an oven mitt, remove the cookware from the grill.
Allow the cookware to cool until you can pick it up.
Repeat steps 4 through 11 until you are happy with the color and sheen. It will probably take 3 to 6 cycles.
Periodic Seasoning
As you use your dutch oven, the grease, oil, and fat from the food you cook will continue to season the cookware. Some acidic foods such as beans and tomatoes can remove some of the coating. So, frying bacon, deep-frying fish, making doughnuts, or cooking fatty foods will improve the protective layer while acidic foods will harm it.
Once seasoned, your dutch oven will most likely not need to be seasoned again as long as you use it often and clean it correctly. It never hurts to reseason it and some folks like to do that at the start of a cooking season.
It also may be necessary to reseason if food seems to be sticking too much or your cookware has been abused or stored incorrectly. If there is rust or the oven just doesn't look well coated, it's a good idea to season it again.
Periodic Seasoning is just like the Initial Seasoning except that you don't wash with soapy water. If there is rust present then you may want to strip down everything and do a complete Initial Seasoning. Otherwise, clean your dutch oven normally and follow the steps above except for using soap.
The finish on your dutch oven should be dark brown or black, the darker the better. It should be glossy, but not sticky. If it is sticky, you left too much oil on and you'll need to heat it more. Over time, with proper cleaning, this glossy coating will become stronger. You should notice that foods are easy to remove and clean up is simple.
Now you know how to season a dutch oven!
---
Comments:
Feb 03, 2016 - debby
I purchased a pre seasoned duch oven,I washed it as per instructions, and after I removed it with my first use with the food still in it. it was rusted on the inside of the lid and some around the inside top. What do I do??
---
Feb 15, 2016 - Jerry
I just bought a dutch oven and was wondering if I could season it on a charcoal grill? I don't own a gas grill and don't really want to do it in the house. Thanks, Jerry.
---
Feb 15, 2016 - Dutch Oven Dude
@Jerry - Sure, lots of people do it outside in their grills. Gas grills work a lot better, but charcoal is ok.
---
Mar 28, 2016 - Liz
Hello I recently bought a 10 inch deep camping lodge Dutch oven. I just noticed a 1 mm wide by 1 mm deep pockmark on the outside wall of the kettle. I can insert the tip of a toothpick into the hole. In your experience is this normal and will this blemish affect the lifespan of my dutch oven?
---
Mar 28, 2016 - Dutch Oven Dude
@Liz - I wouldn't worry about a pinprick blemish.
---
Apr 02, 2016 - Hal
It is helpful to pick up an IR thermometer like you would use to check engine temp. These are available at tool stores for around $30. This lets you directly measure the temperature of the wall of the DO.

This is what I use when I teach boys how to season DO's during Boy Scout campouts. It also helps on the backyard grill since temperature is hard to control there and when it gets too hot all the seasoning can turn to dust ...


---
Jun 19, 2016 - Linda
Is there another way to season the pot? I have no grill and my oven does not work - which is one reason why I just bought a dutch over for the stove top. The over needs seasoning only on the lip of both the lid and bowl; perhaps I can oil them before and after every use? Thank you for your help!
---
Jun 27, 2016 - Dutch Oven Dude
@Linda - As a dutch oven gets used, it naturally develops a seasoning. "Seasoning" specifically just speeds up the process. If you keep your dutch oven clean, use it often, oil it, and don't way overheat it so the developed coating burns off, it should be just fine.
---
Aug 03, 2016 - Dawn
Can we use coconut shortening to season? Or avocado oil? I see you say not to use butter.
---
Aug 24, 2016 - Matthew Buhk
I have been told to season with lard, which is rendered pork fat. Is this acceptable or should I stick to strictly vegetable shortening?
---
Sep 01, 2016 - Dutch Oven Dude
@Matthew and @Dawn - Use lard or coconut or avocado if you want. The simple vegetable oils work fine and I don't see any extra benefit to using something else.
---
Sep 21, 2016 - Lissa
I was seasoning a Dutch oven on a grate over an open fire outdoors using bacon grease. After an hour or more I decided to add a second helping of bacon grease in the pot to give another layer of seasoning. It looked like the first layer was good and baked on. This was an antique oven that had been found outdoors after many years so it had a lot of rust and I had sanded it down completely to scratch. I was trying to do two layers at once as I need the pot for a Scout outing this weekend. I think I added too much grease (super hot so I just dropped a spoonful in and shook the pot around as much as I could. The grate was uneven and I wound up with a nice coat on one side and the other side had a blackened skin of ick. I broke that up and removed it as best as I could with a stick. It is still sitting on the fire. How can I smoothe it out when it is cool without removing all the fresh seasoning?
---
Sep 21, 2016 - Lissa
Got the DO off the fire. Seasoning failed. DO is coated with black ash that wipes away with paper towel. It does not appear that much, if any of the bacon grease melded with the cast iron. Was the fire too hot?
---
Sep 21, 2016 - Dutch Oven Dude
@Lissa - That's what it sounds like to me. And that's probably the best way to start over.
I'd use steel wool to rub out the ash that's left, rinse it out with hot water, and dry it. Then, rub a little oil (or grease if you really want to use that) all over and wipe off as much as possible - no blobs or puddles or runs anywhere. Then, heat it up for AT LEAST 30 minutes, cool it off, and repeat.

---
Oct 09, 2016 - Lori
I bought one did the steps and then cooked in it and my food stuck at the bottom. How do I get it not to stick. Can you use olive oil
---
Oct 17, 2016 - Dutch Oven Dude
@Lori - You can use olive oil to season your cast iron, but canola oil or flax oil is considered a better choice.
A newly seasoned dutch oven isn't stick-free. Rubbing a little oil in the dutch oven before cooking will help food not stick, and help make a smoother surface over time.
Going through the seasoning steps more times to gradually enhance the surface could also help.
---
Oct 21, 2016 - Sunny
I just flipped 2 eggs over easy-at the same time! without breaking either yolk! Thanks for the seasoning tips, dutchovendude!
---
Nov 03, 2016 - Rich
Hi
Just bought a new cast iron DO and am preparing to season it. I've washed it a few times but the white paper towels i dry it with are coming up brown. The DO is black in colour. Is this normal?
---
Mar 23, 2017 - Heather
Thanks for the great tips! I don't know why I've never thought to do the seasoning in the BBQ Grill, I always dread smoking up my house.
When you cook over the fire, do you do anything special to clean the soot from the outside? I used to work at a camp where we cooked over the fire, and the cook always rubbed a bar of soap on the bottom of the outside after washing the pan. Good or no?
---
Mar 25, 2017 - Scott
@ Heather - I mostly use coals to cook with, but if its used over an open fire I use sea salt to remove heavy soot and to clean the outside of my dutch ovens (I have seen some use salt and a potato), then I will apply a light coat of oil after each use. Liquid soap applied before cooking does make it a little easier to clean. However, I do not apply soap unless I plan to re-season.
---
May 23, 2017 - Stephanie
I'm anxious to use my Dutch oven at our campsite! My camper oven isn't large enough, nor do we have a BBQ grill there. We use the fire to cook on mostly. Can I, and how can I season my Dutch oven over the fire? I do have a tripod for the fire, could I hang it to season? Is it better to season upside down?
---
May 27, 2017 - Dutch Oven Dude
@Stephanie - That's the way it was done before ovens. Just cooking fatty food like bacon, sausage, ... will season a DO.
If I just had a fire, I would wipe a thin layer over the interior as described above and then heat it with the lid on and coals on the lid so it is about 400 degrees for 30-45 minutes. Then, repeat that and see how it looks.
Cook some bacon and see how it works.
---
Sep 01, 2017 - Jeff
Hey there DODude! I'm stoked to have just bought a well used DO from a guy who used to teach BSA classes in DO cooking. It's got a good season going on, but some of it is flaking off. Should I reset it and re-season, or keep on keeping on with the season it has?

One more question. He said this DO had never had onions in it... that's a tall order for me, I love me some onions, but does it ruin the oven for desert dishes?

Thanks a bunch
---
Sep 17, 2017 - Dutch Oven Dude
@Jeff - I'd redo the seasoning. When it's flaking off, it gets in the food.
Onions are fine. I make all kinds of dishes in the same DO, just cleaning it out between each one.
---
Oct 22, 2017 - Laura
Can you still season it after one use? Ended up in bind cooking a gumbo and had to use our large Dutch oven that hadn't been seasoned yet...
---
Oct 22, 2017 - Dutch Oven Dude
@Laura - Sure, you can reseason your DO whenever you want. And, just using it to fry occasionally is all that is usually needed since the oil does a good job of seasoning the iron. Make doughnuts or sausage once in awhile.
---
Oct 29, 2017 - Connie Brown
I have a Majestic Aluminum Dutch Oven I purchased from a thrift store. It looked like it had been cooked in for many years so I scrubbed it down with steel wool and now anything I cook in it sticks. How do I restore the protective coating so I can enjoy cooking in my Dutch Oven?
---
Oct 29, 2017 - Dutch Oven Dude
@Connie - Just read the content above and do the initial seasoning or cook greasy, fatty meat in it a few times.
---
Nov 01, 2017 - Ed
I like to heat my DO's with a rose bud torch till they glow a dull red to bring them to a as cast condition then season them as described here. This works well with old or rusted DO's of pans from yard sales with beans or what ever from the last camp out they were used on.This works for me YMMV. If you use this method heat them slowly and evenly to avoid cracking the cast iron.Cool and clean with SOS pad with hot! H2O dry then season as above.Thanks for the site DO Dude, I've been DO cooking for over 30 years and still gleaned good info here.
Ed
---
Dec 23, 2017 - Donald N Wright
Ah! I am supposed to keep C/I Dutch Ovens where air can circulate. I've had them in plastic crate with material to absorb water. As for my aluminum Dutch Oven, you say just wash normally, but how do I season Aluminum? Also, do you know of any cookbooks for the Aluminum Dutch Ovens?
---
Dec 23, 2017 - Dutch Oven Dude
@DOnald - Aluminum dutch ovens don't need to be seasoned. My
cookbook
works for aluminum as well as cast iron.
---
Feb 09, 2018 - andrew
Good advise thanks for the info
---
Aug 27, 2018 - Doug UTTING
Hi - I have just bought a Lodge DO. I Know it is 'pre-seasoned' but would you recommend seasoning again before first cook.
---
Aug 28, 2018 - Dutch Oven Dude
@Doug - I'd just wash it and go. Lodge does a good job of preseasoning, but cooking a bunch of bacon, sausage, or other greasy food first is a good way to prep it for other foods.
---
Sep 30, 2018 - Trent Ramsdell
Can I safely boil a combination of apple juice apple cider and sugar??
---
Sep 30, 2018 - Dutch Oven Dude
@Trent - Sure. It's not going to explode, or give off toxic fumes, or ruin your dutch oven.
---
Apr 12, 2019 - Lefty LaRue
Dude,
I have found that vinegar is by far the easiest and best way to remove stubborn rust on old cast iron skillets and dutch ovens. However they will rust even before i can get them dry. Any ideas on how to quickly get them dry and ready to oil before the flash rust sets in?
Thanks
Lefty
---
May 02, 2020 - Clementina Murar
I just bought a Lodge Dutch Oven just to bake bread in.
It's pre seasoned supposedly. The bread recipe call for cooking bread dough on parchment paper. Do I need to season pot?
---
May 03, 2020 - Dutch Oven Dude
@Clementina - A preseasoned Lodge should be washed well and then used.
---
May 29, 2020 - Koenraad
I bought a new DO 10 days ago. Spent 5 cycles seasoning it in my Green Egg with canola oil. One of these cycles I made the mistake of not putting it upside down, and the excess oil created a thicker layer at one side off the pot. I tried to correct that with a metal ring "cloth", which was not entirely successful. But it all looked glossy enough, so I used it to make a sofrito (onions/tomatoes) and yesterday put it on the remaining charcoal with favs beans. He fed turned out OK but the bottom of the DO looks flaky and a wipe with a paper towel shows black residue coming off. I guess I should probably strip the thing and start all over?
Many thanks for your help, great site you have here!
---
May 29, 2020 - Dutch Oven Dude
@Koenraad - If there's bits of flakes coming off, then they're going to keep coming off until they're all gone. If it was me, I'd scrub it down and try again. If that didn't work, then I'd do a complete stripping with fire, steel wool, chemicals, or electricity - whichever you prefer, and doing some very light, careful seasoning.
---
Jun 03, 2020 - Travis Hubbard
Great info on seasoning a dutch oven. I linked to this page from my site to send visitors your way. Keep up the good work. Fantastic recipes too. Thanks.
---
Jul 05, 2021 - Kelly Horne
Hi, I haven't used my DO for a couple of years but have stored it and looks great but the oil that I rubbed it with smells, do I need to re-season it?
---
Jul 05, 2021 - Dutch Oven Dude
@Kelly - In the future, if you don't expect to use your cast iron for years, you could just wash and dry it well - and don't rub it with oil.
If it still looks good right now, I'd put a cup of vinegar in it, fill with water, and boil for a half hour. Then, pour out the oily, vinegary water, let it cool a bit, add some clean water, and scrub it down with a plastic brush or scrubbie pad. Finally, rinse well and dry it out over heat.
If it still smells, then stripping and re- seasoning may be in order. Otherwise, if it smells ok, rub on a light bit of oil and start cooking!

---
Aug 21, 2021 - David Jones
I have the same question as another fellow. I only have charcoal grill. is it the same process? Do I need to season it 4-5 times? If I use the oven inside and smoke up the house my wife will cure me.
---
Aug 24, 2021 - Dutch Oven Dude
@David - Sure, lots of people do it outside in their grills. Gas grills work a lot better, but charcoal is ok. The process is the same.
---
---
---


Find more Dutch Oven Resources at DutchOvenDude.com