Armadillo Eggs Dutch Oven Recipe
Ingredients:
12 jalapeno peppers
2 cup Biscuit mix (dry)
12 oz. shredded cheese
2 lb. hot pork sausage
2 pkg Shake-n-Bake pork seasoning in a ziploc.
Instructions:
Tear the sausage into little bits.
In a bowl, mix sausage, biscuit mix, and 6 oz. of cheese into a dough.
(add a little water if it's too dry)
Cut the stem and tip off a pepper.
Cut the pepper in half to make two round pieces and remove the seeds.
Stuff the pepper with cheese.
Create a very flat patty of the biscuit/sausage mixture.
Place a stuffed pepper piece on the patty and wrap the dough around the pepper, pinching the dough sealed, forming an egg shape.
Drop the pepper in the ziploc and shake it to coat well.
Repeat with all pepper pieces.
Heat the dutch oven to 350 degrees for
Baking
.
Place a layer of wrapped peppers in the dutch oven and
Bake
30 minutes, until they are very brown all over. Be sure to cook the sausage well.
Serves 6 to 8.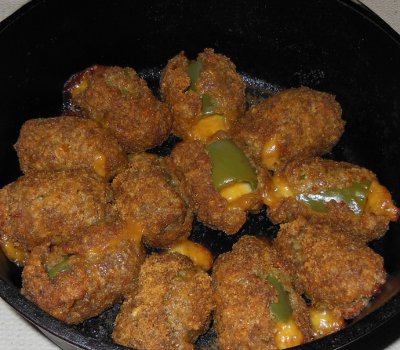 ---
All recipes use a 12-inch dutch oven, unless specified.
If you have a 10-inch dutch oven, use about 2/3 to 3/4 of the ingredient amounts but keep the temperature and time about the same.
If you have an 8-inch dutch oven, use about 1/2 of the ingredient amounts but keep the temperature and time about the same.
If no temperature is listed, use 350 degrees.
See
Heat Settings
page for temperature and coal placement
for
Frying, Stewing, Roasting, Baking, and Simmering
.
Let me know how you enjoyed your Armadillo Eggs!
Send a photo of your meal to
so I can add it here.
Get 66 favorite recipes in my new dutch oven cookbook.

Click one to vote:
Did you like it?


Or hate it?

Next Recipe
Main Recipes Page
---
Comments:
Nov 13, 2016 - Bill Sanderson
I made these this weekend. They were great. I only used two cups of Shredded cheese and only one packet of Shake and Bake. They barely fit in the 12" Dutch oven and I probably let them go longer than 30 minutes to be on the safe side.
---
Jan 16, 2019 - Sam G
I made these in September with charcoal and they were the highlight of our camping trip. They were certainly very spicy - I might try half with regular sausage and half with the hot pork sausage next time. I can't wait to make these again. I cooked them in batches so they all could brown evenly. Delicious!
---
Dec 14, 2019 - Bill Sanderson
A tip I saw somewhere is that you can take a zip lock bag, slice it down the sides lengthwise and press out the patties inside it. This lets you get them very flat and uniform. I think that might help with the splitting open situation. This is a great recipe and I get asked for it often.
---
---
---


Find more Dutch Oven Resources at DutchOvenDude.com