Buy Dutch Oven Cookbook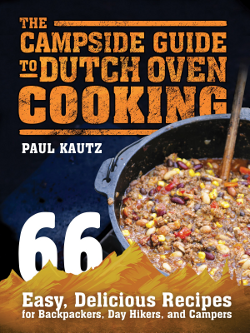 You can purchase my Dutch Oven Cookbook pretty much any place.
You can purchase it on Amazon as paperback or Kindle,
but if you buy a paperback directly from me, you get:
Signed by the author
Lower price
---
Comments:
Mar 24, 2016 - Abby Diamond
I want to take your book with me on an airplane - How large / heavy is it? We're going camping in Africa with fully equipped camper vans provided by the outfitter. It would be so handy to have your book with us!
---
Mar 28, 2016 - Dutch Oven Dude
@Abby - It weighs 15 oz. It is 9x6 inches.
---
Mar 31, 2016 - Michael Barnes
I received my cook book from you with it signed. Just want to say Thank you very much. Looks as though there are some great D O recipes. Can't wait to go camping this summer and start rocking and Rolling! Thanks again!
---
Apr 04, 2016 - Loretta
Hi, I am considering purchasing your book for my son's scout troop. I need to know two things:
1. Do you have yields for each recipes (e.g., yields xx amount or serves x amount of people)?
2. Do you specify how much charcoal to use for each recipe?

Thank you!
---
Apr 05, 2016 - Dutch Oven Dude
@Loretta -
1. Servings are listed.
2. Temperatures are listed, and there is a section in the book on ways to determine temperature. If you use briquettes, various brands perform differently so listing something like "12 briquettes on top and 7 underneath" would not be helpful - it varies by brand, wind, air temperature, and humidity. Keeping approximately the correct amount of heat on top and under the dutch oven is all that is needed.
---
Jul 18, 2016 - Melissa
Does your book have the cast iron seasoning, cleaning, & restoring info in it? Like what is on the website here? Thanks!! Love the website!
---
Jul 19, 2016 - Dutch Oven Dude
@Melissa - Yes, there is a section at the beginning of the cookbook about cleaning your dutch oven. It does not go in depth like the seasoning and restoring pages of this website because that information is not often needed.
---
Sep 01, 2016 - Trish
Paul, just grabbed the kindle edition for a trip to Kahio this weekend. Looking forward to trying some of your recipes! My challenge has always been getting the temp right!
Scout on, Dutchovendude!

---
Nov 27, 2016 - Dutch Oven Dude
Dutch Oven Christmas Gift - a new cookbook for that DO dude in your family or friends?
---
Dec 27, 2016 - Raymond McCormack
I am a USCG licensed captain, and have wowed quite of my crews and friends when I whip it my old 10" cast iron dutch oven. Have you heard of many seafood dishes being done in dutch's?
---
May 22, 2017 - Dutch Oven Dude
I've been sending out quite a few cookbooks this month as folks are entering summer. Books just went to Virginia, Alabama, Oregon, and Washington today.
It's fun signing them and dropping them in the outgoing mail.
Have fun cooking, everybody!
---
May 30, 2017 - Dutch Oven Dude
I just sent cookbooks to AZ, NY, MA, WY, and CO.
I hope everyone had nice weather for outdoor cooking over the Memorial Day weekend.
---
Jun 10, 2017 - Dutch Oven Dude
School's out for summer!
Cookbooks off to NE, MT, TX, KS, NC, PA, and MN.
---
Jun 29, 2017 - Dutch Oven Dude
Back from my trip to France and just sent books to CA, IN, MD, MI, MT, NV, PA, and SC.
---
Jul 10, 2017 - Dutch Oven Dude
Last bunch of books sent to TX, NV, AL, AR, IA, and AK. I'm off hiking until September - if you order a book, it will get sent to you then.
---
Oct 16, 2017 - Dutch Oven Dude
Must be time for Christmas gift shopping. :-) Books sent to CT, OH, AR, TX, MT, IL, OK, CA, IN, MA, OR, and AL.

I'm ready to sign more as soon as you buy them!
---
Apr 20, 2019 - Dutch Oven Dude
It's been a fun year and a half, sending books around the country. I just got a new shipment in and have some ready to be signed and sent to you for your summer outdoor cooking. :-)
Cook On!
---
Sep 02, 2020 - Elle Zwicky
Will you have any cookbooks in the near future that I can order directly from you? I starting to think about ideal Christmas presents. I prefer to order from you directly from you.
---
May 21, 2021 - Clay Bartholow
Hi Paul ---

I just finished your CPR/AED + Wilderness & Remote First Aid classes. I was going through the docs you linked for us and saw the one about your Dutch oven cookbook.
I've been doing Dutch oven cooking for quite a while, have 3 Dutch ovens, and a pretty decent library of Dutch oven cooking and recipe books. When I saw the cover of your book I realized it was in my collection. It never clicked that you had written it.
I just thought I'd let you know and say it's one of my favorite Dutch oven books.

Take care,

Clay Bartholow


---
Jun 18, 2021 - Julie
I can't seem to find a hard copy of your cookbook to buy. I'd love one to take camping with me. Any ideas of where I can find one? (June 2021) Thanks much!
---
Jun 18, 2021 - Dutch Oven Dude
@Julie - The link above to "Books a Million" has copies available (at least today).
---
Feb 02, 2023 - Dutch Oven Dude
A new printing of my cookbook was done and it is available here as a signed copy, as well as many online and physical locations. :-)
---
Feb 28, 2023 - Ava Tufts
I love your cookbook too!!!
---
---
---


Find more Dutch Oven Resources at DutchOvenDude.com