Dutch Oven Cooking
So, you got talked into cooking with a dutch oven, eh? Well, it's about time!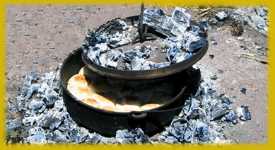 Dutch oven cooking is one of the most splendid activities on a camping trip. Transforming raw materials into an aromatic, mouth-watering meal or dessert is as much art as science. Just the looks of anticipation on everyone's faces when you lift the lid on your cast-iron dutch oven and let some of the smells escape is worth the extra work of packing this heavy piece of gear.
You can buy my signed Cookbook or surf my website. On these pages, I've jotted down all the advice I can think of to help you choose a good dutch oven, get it ready, keep it in good shape, and use it to create magnificent meals. My dutch oven recipes give you a selection of dishes to prepare for breakfast, dinner, or dessert so find one that sounds good and give it a try when you want to go for something new.
Most of the dutch oven cooking I do is on camping trips. But, using a dutch oven at home is also very popular since the food gets cooked at a constant, all-around temperature. There's nothing better than a wonderful dutch oven meal served for friends at home.
If you are just starting with dutch ovens, you should read through this site like a book. Or, use the navigation on the left to hop to any page that interests you.
---
Comments:
Oct 03, 2015 - Micheal McLaughlin
The recipes from the Dutch Oven Dude are some of the best my family have tried and we will continue using them through all our camping adventures..😋
---
Oct 05, 2015 - Elizabeth Hodson
Thank you so much for your page, it has been extremely useful. I fell in love with Dutch Oven cooking over scouting trips and now with my youngest's Pack I'm trying to veer them away from foil packets and hot dogs (how boring). We will be using a few of your recipes this month on our Pack's trip to Sand Dunes NP. You've also inspired me not to be intimidated by rusty cast iron. I found a 12" skillet at Goodwill for a few bucks and I'm using this afternoon to restore it. I just wanted to drop a line and say how much I enjoy your site and thank you! P.S. Have you seen the new Webelos requirement Cast Iron Chef? it's a great intro to getting them away from the usual boring Cub Grub.
---
Oct 05, 2015 - Dutch Oven Dude
@Elizabeth - Super! I'm glad you're helping the scouts expand their culinary horizons.
Yes, I like the new Cub Scout cooking emphasis, and the additional camping expectations. I hope they don't cause too much concern for Packs that have not done much in the past.
If you get any good pictures of the meals you make, send an email and I can add them to the recipe pages.
---
Oct 11, 2015 - Paul Russell
Bacon Cornbread;
Make a lattice work of bacon strips in the bottom of your cast iron skillet or dutch oven. Cook the bacon to the half way point, do not drain the grease, then add your cornbread mixture over the bacon and cook until done. The cook must have the first slice as it will disappear quickly!
---
Oct 18, 2015 - steve
Just completed the scout cast iron chef with your recipes. Burgers, beans and biscuits were a hit as well as Dutch oven pizza and short corn. Would like to send you the pictures. Send us an email link. New way of cooking was super.
---
Oct 21, 2015 - DucksFan1979
So, I have to admit that I have been a little intimated by my purchase of a Dutch Oven. I have a Weber grill that I will be using it in, but I am excited to get started. I just wanted to say thanks for a great website with some awesome recipes. It should make the first few attempts much easier. GO DUCKS!!! :-)
---
Nov 18, 2015 - Bob K
I got into the dutch ovens because of scouting. I now own 3 (2-12s and a 14"). I go with my oldest for boy scouts and am always asked or volunteer to cook. Every meal on camp outs is done in the DO and now as Cubmaster for my younger boys, its going to be great. I've printed and shared most of your recipes. We even have our own DO society in delaware. The Dutch Oveners of Delaware Society (DOODS).
---
Dec 07, 2015 - Caroline wilcom
We love your recipe's. Our friend turned us on to your site. The chill Mac is so good. You are awsom. Thank you for sharing.
---
Dec 13, 2015 - Larry L/
Just made your Hawaiian Steak Strips Dutch Oven Recipe. Something must be left out! Nothing Hawaiian about that! Made about 10 of your recipes using DO, they were great. If something was left, could you correct, Thank You.
---
Jan 01, 2016 - Dale
Great recipes and good information. I do prefer the lifting power of a full grip, ringed lifter to the insure chicken foot lifter though. Check one out at MyOutfitter.Com Happy Cooking.
---
Jan 27, 2016 - Jon
Great recipes! Haven't found a bad one yet.
---
Feb 24, 2016 - Rich
Learned dutch oven cooking as a boy from a scout leader years ago. He had a peach cobbler recipe that was amazing. Have done dutch oven cooking with both Cubs and Boy Scouts as an adult leader for many years. Best food you can have on a campout...
---
May 06, 2016 - Scott
Just wondering if you can add a print or download button to make it easier then copy and paste. This site is awesome and I like keep my binder going with all the great recipes. Thank You
---
May 06, 2016 - Dutch Oven Dude
@Scott - Have you tried to just print a page from your web browser instead of copying and pasting? I think you'll find that just the content gets printed and not the ads and navigation.
---
May 26, 2016 - Amy
These look amazing! Question about the German pancake recipe: we made it in my oven at home and it turned out great. My son is going to try to make it on a scout cookout this weekend - should he use the Dutch oven lid to cover it or leave it open to bake?
---
May 26, 2016 - Dutch Oven Dude
@Amy - The lid should always be on the dutch oven when <B>Baking</B> since most of the coals are placed on the lid, and the lid keeps in moisture. If you are frying, stewing, or simmering, then the lid is not needed since all heat is under the dutch oven.
---
Jun 01, 2016 - John Pettit
Thanks for sharing your recipes. We do a lot of Dutch oven cooking with our Cub Scout Pack and our boys love cooking dinner at our campouts. Last campout we had 6 dutches going with Cowboy Stew, Witches Brew, Chili Mac and Chicken Pot Pie. Also made 4 cobblers for dessert.

Some tips for others: most recipes that say 6 servings will feed 8 if you have more kids than adults. Cobblers feed about 10-12. If recipes call for potatoes, recommend pre cooking them some. We found the recipes that had potatoes took longer than times in recipes.
---
Jun 23, 2016 - Bob
Just received your cookbook. Most cookbooks have 10-20% of recipes one will actually eat. This one has 100%! The problem was deciding which one to try first. Going with the Zingy Pork Chops this weekend. Then on to another! Thank you.
---
Jun 24, 2016 - Denise Bethel
My oven has the patina that is flaking into my food. Should I try to remove it and how?
---
Jun 27, 2016 - Dutch Oven Dude
@Denise - Yes, if it's flaking off, you should reseason your dutch oven. Start on
this page
and put in some effort and your dutch oven will be good as new.
---
Feb 16, 2017 - Wendy
Dude,
I guess maybe this isn't a "dutch oven" question. We have what I think you are calling a bean pot that was my in-law's. It has a glass lid. Assuming I can't use this IN the fire, what CAN I use it for? Will it work hanging over a fire or on a grill over the fire? Or is that too much for the glass and I should reserve it for indoor or camp stove cooking?

---
Feb 16, 2017 - Dutch Oven Dude
@Wendy - I wouldn't use any glass items cooking outdoors. It's just too easy to break them. I would keep that item for use indoors.
---
Jul 02, 2017 - charles crews
This is a great site. Thanks for having it.
---
Dec 03, 2017 - Christian
Awesome recipes, just wondering how to send pictures of our dutch oven food to you so you can use them for some of the recipes, thanks.
---
Dec 10, 2017 - Dutch Oven Dude
@Christian - Good point, so I've added an email link to the bottom of every recipe. Hopefully, it's done correctly so spambots won't bombard me with junk mail. :-)
I do look forward to pictures of meals all you folks have made, especially before they get devoured!
---
Feb 10, 2018 - Outandabout
I have open fire bbq hut but only cook burgers etc (no good advice for huts out there) would a dutch oven be suitable and more cooking options
---
May 23, 2018 - John
In general, can I cut a recipe in half from a 4 quart (10") to use in a 2 quart (8") Dutch oven?
---
May 23, 2018 - Dutch Oven Dude
@John - Your 2qt is probably 8inx3in and your 4qt is 10inx3.5in - so the extra volume in the 10inch is gained by making it deeper. This will not work out to even cooking of solid foods like breads, desserts, casseroles.
The circular area of an 8inch is about 45% of that of a 12inch, regardless of the depth of the D.O. So, if you are cooking in an 8inch D.O., use about half the amounts shown in the recipes on this site since they are made for 12inch D.O.s
---
Aug 11, 2019 - Mary Green
Awesome website, very informative! I have a question, I have cooked on cast iron at home for many years but I'm new to campfire dutch oven baking. When baking, the food gets a metallic taste how do you eliminate that? The ovens are fairly new and haven't been used a lot yet, but are seasoned well, is this something that will go away after they've been used more? Any feedback would be greatly appreciated! Thank you.
---
Aug 17, 2019 - Dutch Oven Dude
@Mary - I've not encountered metallic taste in any of my dutch oven foods, but others have reported it. It could be due to the seasoning not being as good as it looks. It tends to show up more when acidic foods are cooked, like tomato-based sauces.
I can only recommend doing some more hot oil cooking in the dutch oven, or specifically work the seasoning more.
---
Apr 26, 2020 - Alistair MacDonald
Hi, just found this page, looks really useful for a Dutch oven newbie like me. I have a log burning stove thermometer which is out of a job currently, can I use it to monitor my DO's temperature, is the temp of the metal equal to the temp inside the oven?
---
May 26, 2020 - Cb
Hi DoD, glad to come across this site as my cast iron obsession grows:)
Just bought a 12inch lodge DO. On the lid there are two penny sized pieces of seasoning missing (chippedoff) and down to the cast iron. Is this worth taking back for a blemish free DO or should I just re- season and crack on? Tx
---
May 26, 2020 - Dutch Oven Dude
@Cb - I think the hassle of going through the replacement process might not be worth it if the rest of the DO is fine. The outside of the lid wouldn't matter at all. The inside would get seasoned over time anyway.
I'd really look over the entire DO to be sure whatever thump chipped it didn't have any other impact.
---
Dec 14, 2020 - Jason Woodward
I picked up a vintage BSR Round Bottom Franklin Bean Pot. It is missing the wire bail handle. I'm not sure if it's best to find a replacement or manufacture one. Just curious to hear your thoughts.
---
Dec 14, 2020 - Dutch Oven Dude
@Jason - If it were me, I'd make one myself, but Lodge has a $4
replacement handle
that you could probably get to fit...
---
Jul 08, 2021 - susan davis
Lodge 8 newbie. and TOTAL convert. Am fascinated by how one can control all aspects of cooking just by simply shifting around coals, and scientifically!! Certainly not the "set it & forget it form of meal prep: here one is actually 100% involved with the process!! Have tried 3 recipes in 3 days, one from the Lodge book, 2 from a D.O. workshop we attended years ago, and am amazed at the amount I have learned in 3 days, and proud to say I am 3 for 3 in the success dept. (1=chicken thighs+rice, 2=tamale pie, 3=a pumpkin pie/cake made with butternut squash). My 2 biggest questions: 1- ashes: what do folks use to keep the coals ash-free (the whisk broom suggested wanted to catch fire), would a silicone brush work? And re: holding 'ready' hot coals on the side to replace as coals burn down: they seem to vaporize held in a starter chimney (too much air), keep in a small bucket? A #8 sure does wonderful things with only 16-20 briquettes!!!
---
---
---


Find more Dutch Oven Resources at DutchOvenDude.com