Breakfast Casserole Dutch Oven Recipe
Ingredients:
2 Tbsp butter (1/4 stick)
8 slices of bread
2 lb pre-cooked pork sausage
1 lb cheddar cheese
12 eggs
1 qt milk
1-1/2 tsp dry mustard
1 tsp salt
Instructions:
Spread butter all over the inside of the dutch oven.
Tear bread into pieces.
Break sausage into pieces.
Grate cheese.
In a bowl, beat eggs, milk, dry mustard, and salt.
Layer the bread, sausage, and eggs into the dutch oven.
Cover and
Bake
at 350 degrees for 20-25 minutes.
Pour cheese over top of casserole.
Bake
another 10-15 minutes until cheese forms a light-brown crust on top of cooked eggs.
Makes about 8 servings.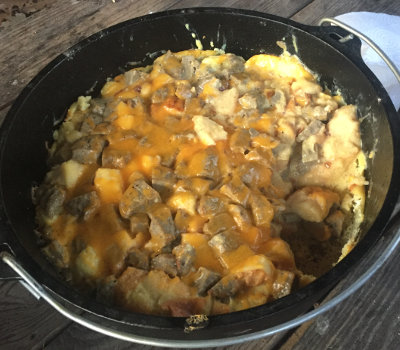 (photo from Christian P.)
---
All recipes use a 12-inch dutch oven, unless specified.
If you have a 10-inch dutch oven, use about 2/3 to 3/4 of the ingredient amounts but keep the temperature and time about the same.
If you have an 8-inch dutch oven, use about 1/2 of the ingredient amounts but keep the temperature and time about the same.
If no temperature is listed, use 350 degrees.
See
Heat Settings
page for temperature and coal placement
for
Frying, Stewing, Roasting, Baking, and Simmering
.
Let me know how you enjoyed your Breakfast Casserole!
Send a photo of your meal to
so I can add it here.
Get 66 favorite recipes in my new dutch oven cookbook.

Click one to vote:
Did you like it?


Or hate it?

Next Recipe
Main Recipes Page
---
Comments:
Mar 27, 2016 - Brandon
Cook time is way off!
---
Mar 28, 2016 - Dutch Oven Dude
@Brandon - Do you feel it is too much or not enough time? It's worked for me many times at these times.
---
Apr 23, 2017 - Jessica
Cook time stated is too little. I followed the proportions/dutch oven size exactly, and it's been in the oven at 350 degrees for 40+ minutes now. Still far from solidified. An entire quart of milk has me worried that this will set. Thoughts?
---
Apr 30, 2017 - Dutch Oven Dude
I made this recipe again this morning to check if the amounts or times need tweaking.  Here are my results - fully cooked and firm.  The bread soaked up the eggs fine and then cooked.
You could use 3 cups of milk instead of 4, and I bet it would be just fine.
---
---
---


Find more Dutch Oven Resources at DutchOvenDude.com