Cast Iron or Aluminum?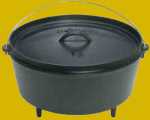 Dutch ovens are traditionally made of cast iron, but in recent years, aluminum dutch ovens have become common.
Both aluminum and cast iron dutch ovens have benefits and limitations as outlined below. Old school dutch oven chefs tend to be cast iron die-hards, with only a few converts to the newer, lighter aluminum alternative.
People looking to save weight, time, and effort go with aluminum.
My experience is that both cast iron dutch ovens and aluminum dutch ovens work just great. I use the tools I have to accomplish a task and I've not had troubles with either metal.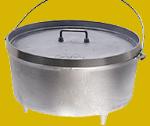 It is much more important to make sure you have a well-made, quality oven rather than worry about it being iron or aluminum. I do feel that a cast iron model just looks more like what a dutch oven should look. But, aluminum is an awful lot lighter.

Activity
Cast Iron
Aluminum
Packing
Very heavy
Weighs 1/3 as much as iron.
10 pounds rather than 30
Heating
Heats slowly and evenly.
Retains heat
Since it has less mass, it heats faster, but may have hot spots and loses heat faster
Cooking
Slow, even heat
May have uneven cooking, especially in windy conditions
Melting
Melts at 2000 degrees.
Won't melt on a fire
Melts at 1200 degrees.
Chance of melting on a very hot fire
Seasoning
Must season and keep seasoned to prevent rust
Season if you want, but not necessary
Cleaning
Only use water after scraping clean. Soap will cause rust and foul flavor the oven.
It doesn't rust so you can wash it with soap and water.
The differences in cooking quality and ease of use between cast iron and aluminum are actually very slim. Cast iron heats more slowly, cooks a bit more evenly, and retains heat longer, but it requires more care in cleaning and seasoning. As long as you use your dutch oven responsibly and care for it, either iron or aluminum will serve you well - just make sure to buy a high quality item rather than the cheapest import on sale.
Do you have a preference between iron and aluminum dutch ovens? Share Your Views
---
Comments:
Dec 16, 2015 - Elaine
Very informative & had a lot of details I really hadnt thought of-but that's why i wanted to look up how to buy a dutch oven, what features to look for & pros & cons of the 2 different types. Thanks so much. Im not going camping with mine but i do have friends who do & will tell them about this site.
---
Jan 03, 2016 - LeAnn
Can an aluminum dutch oven be used for baking bread in a conventional oven at 450 degrees?

Thanks
---
Jan 14, 2016 - Dutch Oven Dude
@LeAnn - Yes, a dutch oven can be used inside a conventional oven for pretty much any baking recipe.
---
Jan 15, 2016 - EthanAlpha
With our Boy Scout troop I have used our six cast iron Dutch ovens for years. They prepare all the meals that we ask and the results are five star if the Scouts pay attention to the correct temperature--they do and it's not hard. The only downside is weight--they don't go on our treks. There is also a friendly ambiance with these Dutch ovens--sort of like a campfire. If you want to go "old time" with excellent culinary results, cast iron DO are a way. That said, I have no aluminum DO experience.
---
Feb 14, 2016 - Jim McKee
did you ever backpack with aluminum dutch oven and if so what did you cook?
---
Feb 24, 2016 - Jenn
I'm trying to make short ribs and the recipe calls for 3 hours at 350 in the oven in a Dutch oven. The Dutch oven I have is aluminum. Do you think this will change the cooking time?
---
Feb 24, 2016 - Dutch Oven Dude
@Jenn - No, it will be just the same time and temp.
---
Jun 07, 2016 - kim
The main issue I have against aluminum is the pitting that results from high acid foods, particularly tomatoes. That pitting means that aluminum is leaching into the food. If you never use high acid foods, I imagine aluminum would be fine, but we use a lot of tomatoes, tomato sauce, and so on, so we stick with cast iron.
---
Aug 19, 2016 - D Robinson
I own and use both aluminum and cast iron DOs, our scout troop has back packed with the aluminum Do, one hiker carries the pot and some food another carries the lid and more food. we have cooked everything from pancakes to pot roast, you just have to prepare and plan ahead. Highly acidic foods have the same effect on cast iron as aluminum, it erodes the metal and on cast iron it also eats away the seasoning you try so hard to protect. I have an aluminum Do that is almost 15 years old and it shows no sign of pitting on the inside as I try to maintain a good seasoning finish on the inside and have cooked maybe a hundred gallons of tomatoes and tomato products in it with no noticeable damage or pitting. Acidic foods should be cooked rapidly and removed from the DO as soon as possible after cooking to minimalize the acidic effects on your pots. Cook anything and everything in a Dutch Oven, they can take it if you can make it.
---
Aug 30, 2016 - M Sanders
Cast iron and aluminum dutch ovens both work very well. As a former river guide in the Pacific Northwest, I primarily used aluminum ovens and the anodized aluminum ones seemed to work the best. No seasoning required and anodized aluminum has non-stick properties which made clean up a bit easier. The reason we used aluminum was we were constantly operating in a very wet environment and weight was at a premium. We also saved time with washing and seasoning. Cast iron would rust immediately in this environment. We did have to be careful with wind however as the aluminum ovens seemed to cool off faster in a breeze. On windy days we tried to set up near high rocks or other features to block wind as our ovens were often stacked 3 high to feed everyone.
---
Oct 06, 2016 - Joe
Has anyone used turkey roasting bags in a DO? I assume they can handle the temperature but do they end up sticking to the seasoned surface or anything? Seems like they might be a way to avoid tomato based recipes from contacting the actual surface and cause pitting while also making clean up easier?
---
Oct 06, 2016 - Dutch Oven Dude
@Joe - I'd never take the chance on the possibility of melting the bag onto a hot spot of my dutch oven.
---
Oct 08, 2016 - Joe
Thanks Dude. I just made my first ever DO meal and it turned out pretty good (not perfect but hey it was my first time so I'll take it). And cleaning it up afterward wasn't nearly as hard as I was afraid it might be, even with a little bit of burn from a hot spot. But now that it's clean, I can't wait to get it dirty again! Love your site. Thx again.
---
Nov 07, 2016 - John Karnes
on Amazon, search for "dutch oven foil liners" - just got back from a trip using these and they are fantastic - a little pricey for what they are, but you can't beat the easy cleanup. Also eliminates any concern over the seasoning and acidic foods. Obviously if you are trying to minimize trash these may not be for you, but it is hard to beat pulling the liner out, folding it up into something about the size of a crushed soda can, and being completely done with cleanup...
---
Feb 09, 2021 - Pat
Can the hammered aluminum dutch over be preheated empty and covered in a 500 degree oven?
---
Feb 09, 2021 - Dutch Oven Dude
@Pat - Yes, aluminum dutch ovens can handle 500F.
---
Mar 01, 2021 - Marc
I've got a vintage Guardian Service 3.5 quart aluminum dutch oven & want to try a small loaf of sourdough bread in it, my question is do I go with the same time/temperature as I would in a cast iron pan? Something tells me that the bottom might burn at that temp (475) faster than it otherwise would? Thanks for any advice
---
Mar 01, 2021 - Dutch Oven Dude
@Marc - You should use the same time and temperature whether it's iron or aluminum. Since you are baking, you have more coals on top of the dutch oven so heat is coming from all around, not just the bottom. You might want to rotate the oven over the coals a bit more often to prevent uneven hot spots in the aluminum.
---
Mar 02, 2021 - Marc
Thanks, much appreciated. I'll give it a go this coming weekend, this dutch oven was purchased by my great grandmother from a door to door salesman sometime in the 1940s & it has worked its way down through the generations to me so I'm happy to breathe some life back into it.
---
May 31, 2021 - Larry
I do a lot of dutch oven cooking, generally for large events and I had both cast and aluminum dutch ovens. I got rid of the aluminum because they cook different than cast. I got tired of having different cooking procedures for the aluminum ovens. I don't think it matters much which metal you use, just make sure they are all the same. I kept the cast dutch ovens because I have many more of them.
---
Jan 29, 2022 - Steven
I just purchased a Club aluminum Dutch oven. I know the it is oven safe, but I'm wondering about the handle on the lid. I can not tell what it is made out of. It is the black square handle. Do you know if it is oven safe or if I will need to remove the handle? Thanks.
---
Jan 29, 2022 - Dutch Oven Dude
@Steven - I can't believe the entire item is not oven-safe, if it is advertised as oven-safe. But, I've heard there is a 400F limit for the "plastic" handles. You could probably unscrew the handle and remove it, or replace with a metal one.
---
Oct 13, 2023 - joelle
can i leave cooked red sauce in aluminum dutch oven over night in fridge?
Thanks for all the info!
very informative!
---
Oct 18, 2023 - Dutch Oven Dude
@joelle - I wouldn't leave any food in a DO overnight if I had a fridge. I'd put it in some other storage container. But, it isn't going to harm the DO.
---
---
---


Find more Dutch Oven Resources at DutchOvenDude.com