Cleaning Your Dutch Oven
As they say, "Cleanliness is next to Godliness"
This is a good saying to keep in mind when caring for your dutch oven. Keeping your dutch oven clean will make heavenly meals possible while a dirty oven will be hellish. Cleaning a dutch oven is actually easier than other pots and pans, once it has been seasoned well. So, be sure to season your dutch oven before you use it and periodically as needed.
If you choose to not season your aluminum dutch oven, then the cleaning of it is just like ordinary aluminum campware. Use soap and water and scrub until it's clean. But, as I mentioned on other pages, a seasoned aluminum dutch oven makes better meals so I'll assume you decided to season yours or you have cast iron that is well seasoned.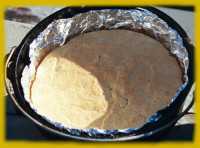 A trick to make clean-up easier is to line your dutch oven with aluminum foil and then put your food in that inner shell. Another trick is to set an aluminum pie tin on 4 or 5 small pebbles in the bottom of the pot and then cook in the pie tin. Both of these methods are useful for keeping the dutch oven clean and they work well, especially for baking breads, cakes, and rolls. But, I feel that you lose a lot of the fun of dutch oven cooking when you do it that way for regular food that is meant to be cooked in the pot. So, keep those in mind, especially if you're just starting, as ways to minimize clean-up.
Cleaning is a two-step process. You first remove all food bits and then maintain the seasoned coating.
Step #1 - to remove food, make sure everyone has scooped out the last edible parts. Then, ...
While the dutch oven is not too hot, pour a few inches of clean water into the oven.
Put the lid on and heat it - you could do this while you're enjoying the meal.
Remove it from the heat and let it cool a few minutes.
When it's cool enough to work with, use a plastic food scraper or sponge to scrape off the last bits of food that should be pretty soft and loose now.
Discard the dirty water and rinse the pot with clean water.
Check that you've gotten all the food off and repeat if needed.
Remember to never use any soap!
Step #2
- to maintain the seasoned coating,
Thoroughly dry the dutch oven. Hang it over or set it by the fire with the lid slightly askew. The heat of the fire will heat up the metal, driving out any moisture and having the lid open a bit will let that moisture escape. This should only be about 5 minutes.
When the dutch oven is cool enough to work with, use a paper towel to rub a small amount of unflavored vegetable oil all over the inside and outside.
Use a clean paper towel to wipe off all excess oil so there is just a thin film of protection from moisture until the next time you use it.
Once you have a good, thick seasoned coating developed, you can safely use a bit of soap when washing, but it really shouldn't be needed.
In the midwest and other humid locations, dutch ovens have a higher risk of rusting and require more care than in drier locations such as the Rocky Mountain states. Maintaining a solid seasoned coating and that thin film of oil will keep your cookware rust-free and ready to use. If (heaven forbid) you do develop rust, please read about how to restore your dutch oven.
At some point, you will probably run into a situation where you have a disaster to clean up. Maybe you went fishing and left the dutch oven cooking for 5 hours instead of 2 or maybe the lid was not on firmly and too much moisture escaped. Whatever the excuse, you now have a lot of hard, cooked-on crust.
At this point, you can either cross your fingers, scrape it all out and try to clean as described above or you can tell yourself it's about time to reseason this old pot anyway and start over.
---
Comments:
Jul 19, 2016 - Kat White
Is there a way to use something in Dutch oven to disinfect it? I feel when I boil water and pour in do the scrubbing with any sponge and rinse with boiled water, and dry, then I season it and wipe extra seasoning off it brownish blackish color. Will that always be like that? Nothing has ever been burnt bad in it. Just wondering if there is something to disinfect it before use? Thanks
---
Jul 19, 2016 - Dutch Oven Dude
@Kat - A dutch oven is supposed to have a dark brown coating from the built up oils that have cooked onto it. Boiling water will kill anything on the surface. Placing it in your oven set to 200+ degrees to dry it kills anything. When you cook food in it, the temperature gets over 200 degrees and that will also kill anything. Using bleach, antibacterial soap, or other disinfectants would be a bad idea.
---
Aug 19, 2016 - D Robinson
Sometimes when you overcook something in your DO and it doesn't want to clean up with boiling water, try this. Dump out water and wipe DO dry, pour in about 2t veggie oil and 2t salt. fold up a couple of paper towels into a small pad, use the towels to scrub the salt over the burned on / stubborn spot. The salt acts as an abrasive and the oil keeps everything all lubed up and protects your built up finish. If this doesn't work then you may need to start a new seasoning process.
---
Nov 02, 2016 - yolonda Fortunato
Kosher salt helps to soak up any leftover oil, and also helps to scrub any leftover brown bits from the bottom or side of the Dutch oven.
---
Jul 19, 2017 - Jeffrey
I have a piece of stainless steel chainmail about 4"x8" that I use on my cast iron to assist with he cleaning. Have you tried that?
---
Aug 12, 2017 - Dutch Oven Dude
@Jeffrey - No, I'd think steel could scratch and ruin the seasoning layer on the dutch oven.
---
Jun 29, 2018 - Mike Bowers
Being a 55 year old man with nearly 30 years involved with Scouting, I have eaten and prepared many meals in a Dutch Oven. I personally own 3 all 12". I would like to tell you of a cleaning story gone wrong. One year I loaned 1 of my DO to another Scout leader to use on a Camping trip, after the meal was done he tried to BURN OUT the remaining meal from it, by placing it over a fire. After he thought it was clean enough, he set it aside and put the lid on it. The next morning he could not get the lid off of it. He decided to let it sit until he gave it back to me. I had to put it in the oven at home heat it to 250 degrees and then the lid came off. But inside was rust, I had to clean it and reseason it. So as you can guess I don't let anybody borrow or clean my Dutch Ovens. Folks be careful with burning them out, and as they cool don't put the lid on them at a angle so they will not stick.
---
May 19, 2019 - Don
Everything about cleaning cast iron I have found is about cleaning the inside. How do you clean and season/reseason the outside after charcoal has been piled on the lid and under it or it has been used over campfire?
---
May 26, 2019 - Dutch Oven Dude
@Don - If the inside has a good season, I don't worry about the outside. After it is cool, I wash the inside and outside with water. I wipe a little oil all over the inside and then the outside. I don't worry about the season on the outside, and the bit of oil does a good job of preventing rust.
---
Nov 21, 2019 - Emily
My dutch oven is precipitating (the seasoning is flaking off in black little specks, kinda like pepper). I only notice it after cleaning my dutch oven when I go to wipe the oil on the inside and the lid. The paper towel will look brown and there will be little black flakes as well. What should I do? Do I need to reason it or try to scrape off the current seasoning and start over?
---
Nov 21, 2019 - Dutch Oven Dude
@Emily - The same thing was happening to one of mine last month. I believe you need to get rid of all the flaking bits and start over.
There are a few different ways to remove the old coating, but I heated it as hot as my oven would go (around 550) for over a half hour and then scoured everything off with steel wool after it cooled. Then, after four cycles of coat with oil, heat to 425, and cool, it looks good to go.
---
---
---


Find more Dutch Oven Resources at DutchOvenDude.com