Cooking Temperatures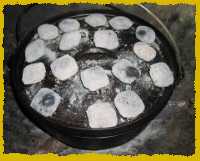 On the kitchen oven is a really cool dial. I turn it to 350 and trust that the oven will heat up to and remain at 350 degrees. I put in the food, set the timer, and go do something productive. When camp cooking in the outdoors, there's a bit more hit-or-miss.
On my dutch oven, there's no dial, nothing to tell me how hot the oven is. Since cooking food at a fairly consistent and known temperature is important for success, there are 3 ways I know of for estimating temperature. Depending on your skill level and how you'll be cooking, one of them should work for you.
Also keep in mind that there are many environmental factors that will influence your oven temperature. Wind might blow heat away; colder air temperature, higher humidity and higher elevation reduce heat generated by coals; direct sunlight makes a black oven a bit hotter. You might consider making an aluminum foil wind shield to place around your oven, but if it is that windy, I would recommend you not have an open fire.
Nearly all dutch oven cooking will come out ok if your dutch oven is about 350 degrees. Some things should be cooked hotter and some cooler, but that's the temperature for all recipes that fail to include a temperature suggestion.
Hand Test
Use your hand to feel the heat. Of course, every person has a different sensitivity to heat but this works well for me. Just remove the lid from the dutch oven and place your hand just above or just inside the oven. Count how many seconds you can keep your hand there before it gets too hot. It is about 50 degrees per second counting down from 550, so I just count - "550, and 500, and 450, and 400, and 350, and 300, ...".
| | |
| --- | --- |
| Seconds | Temperature |
| 1 | 500+ |
| 2 | 500 |
| 3 | 450 |
| 4 | 400 |
| 5 | 350 |
| 6 | 300 |
| 7 | 250 |
| 8 | 200 |
This is my preferred method. It is consistent and detects temperature instead of estimating the amount of fuel. You do release heat so you need to do the check as quickly as you can.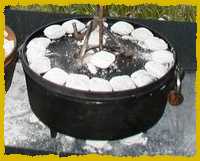 Counting Charcoal
Lots of dutch oven cookbooks tell you how many charcoal briquettes to put under and on top of the oven. This is the easiest way to cook since every coal is similar and consistent.
If you are like me and use real wood for your outdoor camp cooking coals, it doesn't help much. Also, different brands of charcoal give off different amounts of heat.
But, let's say you are going to use charcoal...
The normal formula for
Baking
is to use twice the number of briquettes as the diameter of the oven with 3/4 of them on the lid. For a 12 inch oven, you would use 24 briquettes with 18 on top and 6 underneath.
For
Frying
, use the same number of coals as the diameter of the oven with all of them underneath. For a 12 inch oven, you would use 12 briquettes under it.
Here is a simple chart:
Baking, Roasting
More heat from top so bottom does not burn.
Place 3/4 coals on top and 1/4 underneath.
This provides a uniform heat to the contents.
Frying, Simmering, Boiling
All heat from bottom.
Place all coals underneath.
The lid may be on or off.
Here's a little tool to figure out your briquette placement for your outdoor cooking.
I'd love to hear from you if it was helpful.

Click Here to use Calculator on your Site!
Rule of 3
This is a real simple estimate of briquettes. Take the dutch oven diameter and add 3 briquettes on top. Subtract 3 briquettes underneath. So, a 12 inch oven would have 12+3=15 on top and 12-3=9 underneath. This works for any size dutch oven. Then you need to adjust briquette placement depending on the type of cooking.
I feel this method puts too much heat under the dutch oven. Maybe a "Rule of 4" or "Rule of 5" would be closer to what I use. Fortunately, you can always move coals around as needed depending on what you like.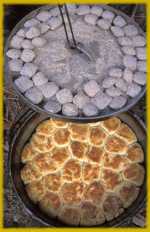 Rings of Coals
As it turns out, the sizes of briquettes work out so that the recommended briquettes count above can be estimated easily. As an experiment, you can take a 12 inch dutch oven and 24 briquettes. On the lid, make a ring of briquettes all the way around the outer edge. How many did you use? I bet it was 16 or 17.
Now, see how many it takes to make a ring just under the oven. There should be 2 or 3 briquettes between each leg for a total of 6 to 9.
That is pretty close to the recommendation for a 350 degree baking set up, isn't it? It works pretty well for any size dutch oven and any size briquettes - smaller briquettes means you need more of them, but its about the same amount of burning mass to make a ring!
A ring around the top and the bottom is about 350 degrees.
Remove every other briquette underneath to make about 300 degrees.
Add a second ring to the top to make about 400 degrees.
If your camp cooking calls for stewing or frying, you'll want to drop those top coals down and shove them under the oven. If you're baking breads, then maybe move a couple from underneath up to the top.
Just remember that a ring around the top and a ring around the bottom is your base starting point and tweak it from there.
Oh, I forgot to mention that this is exactly how I do it with real wood coals. Since coals are irregular and you can't count them, I put a ring of coals around the top and bottom and it works out practically perfect. I'm lazy and like the simplest way to do something. :-)
Maintaining Even Heat
No matter how evenly you distribute your coals above and below your dutch oven, there will be some spots that get hotter than others due to wind, quality of fuel, and phase of the moon. To prevent burned and raw portions of your meal, you should just rotate your oven occasionally, maybe every 10 minutes. You can do it however you like, but I've got an easy way - remember, I'm lazy.
Lift the whole oven off the campfire cookin coals by the wire bail.
Turn the oven clockwise 1/3 of a revolution.
Set the oven back down on the coals - with three legs on your oven, it should sit in the exact same spot it started in with coals between the legs.
With a lid lifter or pliers, grasp the lid handle.
Twist the lid counter-clockwise 1/3 turn - the logo on the lid should be in the same position it started at.
I like this way because both the top and bottom heat moves in relation to the food inside and there's nothing for me to remember except that the lid logo always looks the same.
Taking a quick look inside at this time will give you an idea if the coals are cooking too fast or slow. Just be careful to not drop ash in or let heat out.
Maintaining Long Heat
Your first batch of coals will probably keep the oven hot for 30 to 45 minutes. That's long enough to cook most things, but you sure don't want to let the oven go out for those 1 hour or longer meals.
Just make sure you check your oven every 20 or 30 minutes to see that the coals are ok. Where you see spaces with just white ash, fill in with a few more coals. Or, you can just brush all the ash and coals away and put on a new batch all at once. If we're just sitting around the campfire cooking s'mores, talking, or playing cribbage, I tend to do the former but if the fish are biting I do the latter so I don't need to keep checking on it.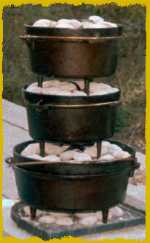 Stacking Heat
When you really get going and have 3 or 4 dutch ovens outdoors cooking, there is a lot of ground space chewed up and a large part of the heat from the coals is heating the surrounding countryside instead of the ovens. I recommend that the first dutch oven you buy is a 12 inch model and then your second purchase is a 10 inch model. This allows you to stack the ovens.
Stacking your dutch ovens is a great way to save ground space, fuel, and time - besides, it looks really cool to have 3 ovens making a tower.
The coals on the lid of one oven serve as the 'underneath' coals for the oven stacked on top. And, the oven on top helps trap heat for the oven underneath. All this makes heat estimating more difficult so you should only tackle this after you've got some experience and are willing to practice on a few meals.
The most important thing to remember is that items needing more heat should be on top. Your bread or dessert should be the bottom-most oven since it wants very little heat underneath. Then, your meat to roast in the middle and a stew on the top. It takes some planning, but an entire meal can be fixed this way so it all gets done at the same time.
Rotating stacked dutch ovens takes a bit more work. Take off the top ones, rotate the bottom one, and then work your way back up the stack. Move as fast as you can without spilling so you keep the ovens hot.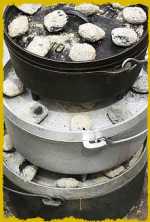 Temperature Tips
Finally, just a few tips to tuck away for later:
You can cook food, but you can't unburn food. Use less heat and cook longer rather than overheating.
Preheat your dutch oven for frying or searing meat. Otherwise, put the food in cold and let it all heat up together.
Keep adding wood to your campfire to ensure you have a supply of camp cooking coals available. If your fire burns too low, it may take extra time to finish your cooking while you make coals.
Some briquette users just set new briquettes next to burning ones around the dutch oven so they light and continue providing heat as the first batch burns out.
---
Comments:
Oct 04, 2015 - Terry Ann Whitby
we are trying to cook ham hocks and anasazi bean soup in our 16" dutch oven.
It requires us to bring to a boil and then simmer 3-4 hours. We do not have a stock pot, so we thought we would use our dutch oven outside instead.
Any advise.
Thank you,
Terry Ann Whitby
---
Oct 04, 2015 - Dutch Oven Dude
@Terry - That should work just fine. Have all the heat underneath the D.O. and keep the lid on to simmer. You shouldn't need much heat underneath once it boils.
---
Oct 13, 2015 - Chris
I'm having to prepare dessert for 25 people and plan on using one 12 inch D.O for Peach Cobbler and two 10 inch D.O.'s for Monkey Bread. Would you recommend stacking since everything is being baked or should I just leave all three D.O.'s on the ground?
---
Oct 15, 2015 - Dutch Oven Dude
@Chris - I think stacking DOs looks cool, and saves ground space, but is more of a bother. Having the DOs on the ground allows you to check and adjust each one individually.
---
Oct 30, 2015 - Kimi
Hi DutchOvenDude, Have you noticed the quality of charcoal continues to go down? Briquettes burn too fast and too hot to do much beyond grilling burgers & dogs. I'm certain they're aerating the product--same volume, less weight. It makes slow cooking much more problematic. I now use less charcoal (lower temp) and must replenish throughout the cooking process--much more work!
---
Dec 11, 2015 - Frank W. Ray
Excellent information! I wish there was a booklet that explained how many charcoal bricks to use and how to place them! I saw one once but have not been able to find it again! I would like to pass along to my Boy Scout Troop!
---
Jan 02, 2016 - Cheryl
As a new dutch oven user, I'm having a tough time trying to figure out how "375 for stewing" translates to an oven burner. It would be much easier to say "medium heat" or "simmer" versus "put your hand in the top and see how long you can leave it there." Do you have a handy tool to translate oven burner temperature instead of briquettes?

Thanks!
---
Jan 25, 2016 - Zee-Man
A common briquette is about 3.75 cu in or roughly 2 fluid oz. A Campbell soup can is 10.5 oz or about 5 briquettes. Teamed with the rule of 3 or 4 or that handy calculator I feel I can set temp pretty easily with my DO now. Thanks for the script!

RE: Stewing at 350
Stewing is a multi-part process. Simmering on the stove top is the latter part. The initial step for stewing is a low and slow baking in a humid environment. Thus to stew meat you use a dutch oven to maintain a humid place inside your larger oven. Set the dial, place the meat in the DO and the DO inside the oven. The meat really should cool completely before adding the liquid ingredients, but there isn't always enough time for that. Stew meat should always be very well marbled/
---
Feb 25, 2016 - debra
love this info post - I am a beginner and the info is very helpful! Thanks.
---
Apr 05, 2016 - JoLynn
I want to do baked potatoes for Girls Camp. I have about 40 people going. Can I wrap the potatoes in foil and place them in the DO to cook. I have never done this before. So can you tell me if this will work or not. I will have about 5 to 6 DO so I won't have to stack the potatoes much.

Thank you
---
Apr 05, 2016 - Dutch Oven Dude
@JoLynn - Sure, you can do that. It's just like baking potatoes in your conventional oven at home.
---
May 09, 2016 - Pat
As a life long camper using dutch ovens and a Boy Scout leader for 27 years, plus a gourmet cook, I love using dutch ovens. However, a warning to those using anasazi beans for the first time, they cook quicker than most beans. They are useful for a quick meal instead of 2 1/2 hours for pinto. They do have a nice creamy taste and are good plain or in soups.
---
May 12, 2016 - Jesi
I just inherited a DO & it looks like a bundt pan on the inside. Will this affect cooking times and temps?
---
May 19, 2016 - Bob C.
This is a great site with excellent recipes and information. The charcoal calculator is an awesome tool. For JoLynn, there are a lot of recipes for dutch oven loaded baked potatoes. You could alter the recipes a bit to suit different tastes. Also saves the trouble of having to cut open the potatoes, put in adds, etc. By already having that in the DO, you just serve and eat. Hope this helps.
---
Jun 03, 2016 - tiny10
This is harder to do all this than to set the tempicture of my Dutch Oven. If my grandparents could do it ,certainly I can do it
---
Jun 14, 2016 - Stacey Beecher
I would like to try pulled pork, but prefer to use wood instead of charcoal. And using a cast iron Dutch oven. Any suggestions or recommendations? Thanks
---
Jun 19, 2016 - Tony Raven
Hi there DOD!
Love this site, it's the best I found yet!
Just bought a DO. made amazing chicken on my first outing using charcoal bricks. I would like to learn to use only wood as you do so, I am not reliant on carrying around or finding bricked test. do you have any tips, other than wood types, on using wood?
thanks,T
---
Jun 27, 2016 - Dutch Oven Dude
@Stacey and @Tony - There's nothing to using wood versus briquettes. You just make a fire, keep adding wood until there are enough coals, and then use those instead of briquettes.
Using pieces of wood that are 1 to 2 inches in diameter creates good sized coals that break apart - too big and it's just a burning log, too small and the coals don't last.
Keep the fire burning in an appropriate spot (like a fire pit) and scoop coals out to a cooking spot as needed.
Make sure the wood is not rotting or insect infested.
Really, I can't think of anything that makes using wood more challenging than briquettes.
---
Jul 24, 2016 - Duncan Richardson
What's an example recipe that would use the lid of a 12" oven as a skillet? And, would you ever cook on the lid and the oven simultaneously?
---
Jul 27, 2016 - Jeremy Wilcox
@Duncan Richardson - I have made pizza in an upside down Dutch oven. Using a lodge X type lid stand place tye upside down lid on it place pizza dough and toppings and then put the bottom pot over top the pizza.
---
Aug 08, 2016 - Randy Skulley
Been cooking dutch and open fire for about 30 years,,used to have lots of oak to cook on now I use mostly charcoal(Kingsford only),for the pots and oak for the open fire,,,you have a great site,,,,keep it up,,,,D P's forever,Randy
---
Aug 08, 2016 - Amanda
Hi,
Thank you for the information.
I need to make cobbler for 18 people in a deep dish 12in DO and wonder what the difference in Cooking time will be. I am doubling the recipe and originally it says 20mins.
---
Aug 08, 2016 - Dutch Oven Dude
@Amanda - Doubling the ingredients in the same size dutch oven means the food item will be very thick and will most likely not cook properly in the center. For stews, soups, and such it's ok, but not for baking and your cobblers would probably not turn out very well. It would be better to make two batches, either in two separate dutch ovens or one after the other.

---
Sep 06, 2016 - Kerry Hess
I'm new to baking with a DO, and have been told to preheat the DO for a pie. but I just read above that you don't preheat unless frying/searing meat. What do you think are the pro/con of preheating?
---
Sep 06, 2016 - Dutch Oven Dude
@Kerry - That is a general statement above, but there are some instances when heating the DO first makes sense. The biggest problem is that if you put your DO on coals with nothing in it and then get sidetracked preparing ingredients, you might come back to a burned out, crusty DO. If you put a little oil or butter in, as in frying meat, then you'll hopefully notice the smoking oil before damage is done to the DO. But, when heating a DO, I don't leave it unattended.
Heating a DO really only takes a couple minutes. As long as you are right there with it, it's fine to heat it first. Most cooking does not really need it, though. Some things, like cookies and breads turn out better when the DO is already warmed up.

---
Nov 17, 2016 - Paul
Two comments, On the July 10 question, as to when would you cook on the lid and the dutch pot, Flap jacks on the lid and Bacon in the pot. They came out great. Myself being a new user to DO, I have found that a cheap infrared thermometer from Harbor Freight has worked very well for me on judging the heat. I just "shoot" in the middle of the side, on the outside of the oven to gauge my overall temp.
---
Jan 03, 2017 - Roy Childers
@FarmBoyRoy69 says: I have an infared thermometer that I use to shoot the temp of my oven. works great. costs about $50-75 but I use it for a lot of other things around the farm.
---
Feb 18, 2017 - paul
the best way I found to count the heat Size of the oven, plus 3 on top .minus 3 under approx 340-350, , seems to work well up to a 14"Oven, remember preheat time & the charcoal will last approx 50 minutes, more heat needed 2 up 2 down will raise the temp approx 30'

---
Feb 26, 2017 - Floyd Brown
This is a very good page with lots of good recipes
---
Apr 21, 2017 - Jana
Love Dutch Oven cooking and your site.
---
Apr 23, 2017 - Tracy
About to buy a large dutch oven to use either on the camp fire or on a camp stove top. 3 questions for you:
When you use on the fire do you add coals to the lid as described for charcoal?
Does stove top cooking work?
Does doubling recipes work? (Thinking of desert for a large group)

Thank you for all your great information!
---
Apr 24, 2017 - Dutch Oven Dude
@Tracy - Yes, add coals to the lid. Stove top works for soups or frying where you just need heat underneath. Doubling recipes typically does not work because the D.O. would be too full. Using two D.O.s works better.
---
Apr 28, 2017 - David Pettit
Great site; it's obvious that you really do use DO's not just write about them. Great suggestion for rotating the pot/lid. I used to use 1/4 turns but 1/3 is probably more effective and using the legs as guides means not having to move the coals around.
---
Apr 28, 2017 - Dutch Oven Dude
@David - Yes, I do. Actually, making
Frito Casserole
tonight - family loves it.
And, like I said, I'm lazy and look for the easiest way to do things - setting legs in the same spots means I don't have to think so hard. Some people place the feet on small, flat bricks and you kind of have to rotate in thirds if you do that. (It does help the coals get air and not smother)
---
May 22, 2017 - Lorie Haag
I see you can use parchment paper...I guess that's good for baking...but, for juicier foods like stew or acidic sauces, can a slow cooker liner or cooking bag be used? Love your site...retired chef looking for a different exciting way to cook. Thanks Dude! Lorie
---
May 22, 2017 - Dutch Oven Dude
@Lorie - The heat on a dutch oven is not a constant, even temperature like a slow cooker. A hot spot where a coal is close to the dutch oven will cause the metal to get hot enough to melt liners and bags. Paper liners do get browned and crumbly sometimes. I wouldn't want a plastic liner to melt onto the metal.
---
May 24, 2017 - Kimberly
I am a horrible cook in the kitchen but LOVE everything on your page- so helpful for me when we are out camping and I get to use all my fun cooking gear (Dutch Oven, etc.).
---
May 27, 2017 - Josh
I'm newer to D.O cooking, I purchased a 14" oven. I'm wondering what size D.O are most D.O recipes designed for? Should i double the cobbler recipe I found with the larger pot?
---
May 29, 2017 - Dutch Oven Dude
@Josh - 12-inch DO is the size for all the recipes here, unless specified differently.
For a 14-inch DO, use about 1/3 more ingredients than called for using a 12-inch DO.
---
May 30, 2017 - Nomar Martinez
The worst problem to stabilized the temperature are the ashes that remains.
Use a grill surface instead of plate, to segregate the ashes from the combustion area and keeps the briquettes alone.
In the lids brush away the ashes before open it, every 45 minutes and replaced with new briquettes.
---
Jun 05, 2017 - Jenny
Thanks for your site- My husband bought my DO as a gift I love it. Glad to see the info about the charcoal. When I first used it I had no idea how to know temp but I had oak burning in the campfire and used coals from it. The biscuits browned on bottom not on top-just flip them over and it was fine. Looking forward now to using charcoal. Thanks again
---
Jun 19, 2017 - Brendan
I got a 10 in Dutch oven for Christmas and have started cooking with it some. My question is where your recipes are for 12 inch should I just use 1/3 less ingredients instead of 1/3 more like a 14 inch? Thanks for the help.
---
Jun 29, 2017 - Dutch Oven Dude
@Brendan - Use between 2/3 and 3/4 of the amounts. It's actually about 70% of the volume in a 10-inch as compared to a 12-inch.
---
Jul 04, 2017 - John Cook
Great resource and info.
I have been D O cooking about 15 years but forget tips and methods since I don't cook outside every month. More often in the summer and fall.I forget tips and other info over the winter and spring.
Thank you.
---
Jul 12, 2017 - Nathan
Thank you for your web site it is very helpful; I have made many of your dishes with much success. :) What is the best method for removing ashes from the DO? Is there a special broom or tool you recommend? My plastic hand broom keeps getting melted lol. Thanks!!
---
Aug 12, 2017 - Dutch Oven Dude
@Nathan - A straw handbroom works great since it is natural material and doesn't melt.
---
Sep 27, 2017 - Corrie
Thank you, DutchOvenDude! I'm taking 14 Girl Scouts camping this weekend, and wanted to find out how to bake our monkey bread in the Dutch oven. My 10-year-old daughter and I found all of this info extremely helpful!
---
Oct 10, 2017 - Ed
Camping with Webelos this weekend. Lots of great Dutch oven insights to put to use!
---
Oct 16, 2017 - Dutch Oven Dude
@Ed - I hope your gang had a good time and good food!
---
Nov 02, 2017 - Joe S
GREAT Site with lots of good info that I will use for my Feast Weekend this weekend. . . you answered it already, but I just wanted to reiterate - do NOT just double a recipe and toss it in the DO expecting it to cook the same. My son did this to make a French Toast casserole for twice the amount of people. Unfortunately this only resulted in warm mush and a bunch of hungry campers.
---
Apr 17, 2018 - ELIZABETH MATHEW
Hi , could you please make a pdf or printer version of this which we can download ? having a printed version when we don't have wifi and when we are first time Dutch Oven cookers ; it will be easy too .Better to undercook stuff and then cook them right than burn them !!
---
May 04, 2018 - Scott Weatbrook
Elizabeth, what I did was open the Windows Snipping Tool and took a screen shot of the recipe which creates a PNG you can save. Open the PNG and you can print it.
---
May 04, 2018 - Dutch Oven Dude
If you print this page (or other DutchOvenDude pages) the comments, navigation, and ads are not printed - just the content.
---
Aug 11, 2018 - Curtis Brooks
Hi there,
We love outdoor dutch oven cooking, but I've always felt that I was using too many charcoal bricks.
This article was exactly what I needed to refine my cooking process - Thank you very much,

cb
---
Aug 12, 2018 - Barbara
Is there any difference in charcoal use when using a "deep" dutch oven? I purchased a 12" DEEP oven, which holds the same amount as a 14" regular oven — 8 quarts of yummy goodness! If trying to maintain 350 degrees, should use 24 charcoals or 28?
Much thanks in advance.
Barbara
---
Aug 12, 2018 - Dutch Oven Dude
@Barbara - I would use 24 for a 12 inch, deep or not. If you are cooking a mass of something, like bread, and use amounts for a 14 inch 8 quart dutch oven but cook it in a deep 12 inch, then it will not be as spread out as much as it should - possibly resulting in uncooked center or burnt outer. Things like stews, soup, or other liquid items don't matter.
---
Sep 02, 2018 - Terry W Speelman
Like to read and refresh my memory. Don't cook often enough to remember all the tips. Lots of good advice for a novice or someone who has been cooking for awhile. Thanks
---
Sep 02, 2018 - Terry W Speelman
Have cooked with dutch ovens for quite a while but have never cooked by burying it in a hole with coals on the bottom and top and then covering with dirt. Have heard about this way but would like some information on this method.
---
Sep 03, 2018 - Dutch Oven Dude
@Terry - I've not buried d.o.s in holes. I've seen it done with large hunks of meat, but not in a d.o. I think any other food would need to be checked occasionally which isn't possible when it's buried. Besides, it takes a lot of work and time to dig the hole, make the fire, cook, and then uncover.
---
Dec 27, 2018 - William Howard
When I was Scout Master of a High Adventure Troop, we carried in everything in our backpacks - no trailers. I designed a small light weight D.O. as follows:

2 - Pie pans
1 - Smaller Cake pan
4 - Metal nuts
3 - Alligator clips

Place nuts in bottom of pie pan
Place cake pan on nuts
Place food in cake pan
Place second pie pan on top
Seal with Alligator clips

Works well for individual meals. Each scout carried one.

---
Dec 27, 2018 - William Howard
Follow up to my previous post. For recipes calling for top heating place a third inverted pie pan on top. Place coals there.
---
Dec 27, 2018 - Dutch Oven Dude
@William - I have a similar lightweight oven that I made. Something like
this
.
---
Jan 15, 2019 - mike
have you ever heard of anyone ever using silicone bakeware inside a dutch oven, taking caution to not excede the 425` limit of silicone. Is it feasible to bake a buntd cake?
---
Sep 11, 2019 - Melanie M Kramme
I have just received 2 GSI Dutch ovens (aluminum) a 10 and 12 inch. I have heard the amount of coals are different to use? What ratio should I use compared to the chart you have provided?
---
Sep 22, 2019 - Dutch Oven Dude
@Melanie - coals and heat are the same between iron and aluminum. Aluminum transfers heat faster and does not retain warmth as long as iron because it is less dense. Other than that, it's pretty much the same.
---
Oct 02, 2019 - Arnie
DoD. Great info and a lot of questions about large ovens. I found dad's Lodge 6. Does the same rule of plus and minus 3 briquettes to the six work for getting to 350 degrees? What do you suggest to cook in this size? It would be for one to three campers. Would a cobbler be too big? Lasagna or simple items like beans or cheesy broccoli? Do you have recipes for this size or a suggestion for reducing the recipes? Hate to think this beautiful oven is just for show.

Next question is the lid handle. A solid plate of iron. Any tool or suggestion for getting the lid off with briquettes and hot. Seen suggestion of drilling a hole and vice grips.
Thanks
---
Oct 25, 2019 - Dutch Oven Dude
@Arnie - It's just 1 quart, good for a can of beans or some other small dish. You'd need to use about 1/4 or less of the amount of ingredients listed in my recipes.
Yes, 3 underneath and 6 on top should give a pretty good heat on a 6-inch diameter dutch oven.
Vice grips sound like the best option for lifting the lid. Or, heat-resistant gloves to just pick it up by the edges.
---
Jun 06, 2020 - Max
Just got your cookbook as a birthday present, it is a fantastic cookbook and appears to be hand signed! So far the Fizzy Fruit Cobbler is the easiest dutch oven dessert Ive ever made.
Thanks from central Indiana,
Max
---
Jun 06, 2020 - Dutch Oven Dude
@Max - Cool! My wife's fav is Frito Casserole, but I really like Taco Tots.
Cook On!

---
Jul 20, 2020 - Peter
I know you are USA based, but have you ever thought of creating a Centigrade / centimetre version of your very very handy calculator for us poor people that live elsewhere (in this case Africa) in the world

Peter
---
Jul 20, 2020 - Dutch Oven Dude
@Peter - the calculator has been updated so you can choose Metric.
---
Oct 29, 2022 - Edmond harlan
Have been fire cooking for 25 years. Read anything with the word flames in it. As helpful as you have been in the past, I would say I have gotten a vast amount of information from the questions asked. My advice...read everything, there is knowledge out there.
Thanks
---
---
---


Find more Dutch Oven Resources at DutchOvenDude.com