Taco Tots Dutch Oven Recipe
Ingredients:
2 lb hamburger
1/2 cup dry taco mix (2 packages)
1 cup water
1 15-ounce can corn
2 11-ounce cans nacho cheese soup
2 lb frozen tater tots
Instructions:
Heat dutch oven over coals to about 375 degrees for
Frying
.
Brown hamburger in dutch oven.
Add taco mix, water, and liquid from can of corn.
Reduce the heat to about 225 degrees.
Simmer
for about 5 minutes, stirring occasionally.
Spread corn over hamburger.
Spread soup over corn.
Place tater tots in one even layer on top, filling all open spaces. Don't use all the tater tots if they won't fit.
Cover with lid, and move some of the heat to lid to
Bake
at about 350 degrees for about 50 minutes.
Move all the coals to the lid and cook for 15 minutes longer, to crisp the tots.
Serves 8.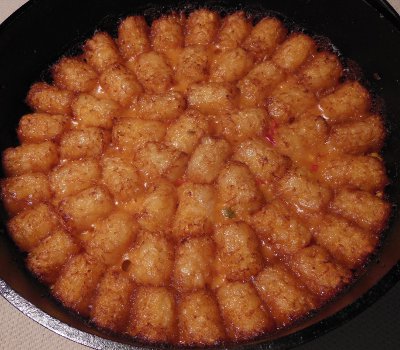 ---
All recipes use a 12-inch dutch oven, unless specified.
If you have a 10-inch dutch oven, use about 2/3 to 3/4 of the ingredient amounts but keep the temperature and time about the same.
If you have an 8-inch dutch oven, use about 1/2 of the ingredient amounts but keep the temperature and time about the same.
If no temperature is listed, use 350 degrees.
See
Heat Settings
page for temperature and coal placement
for
Frying, Stewing, Roasting, Baking, and Simmering
.
Let me know how you enjoyed your Taco Tots!
Send a photo of your meal to
so I can add it here.
Get 66 favorite recipes in my new dutch oven cookbook.

Click one to vote:
Did you like it?


Or hate it?

Next Recipe
Main Recipes Page
---
Comments:
Aug 13, 2017 - Bill Sanderson
Totally off the hook! 19 scouts, 9 adults, 4 batches of Taco Tots, zero leftovers. People were licking the dutch ovens. Not literally, that's gross.
---
Nov 15, 2018 - Barbara Ann
What's is Nacho Cheese Soup? What brand did you use? Can or dry mix?
---
Dec 26, 2018 - Dutch Oven Dude
@Barbara - Campbell's Condensed Fiesta Nacho Cheese Soup
---
Jan 16, 2019 - Sam G
This makes for great late night food. I recommend draining the beef once its browned, otherwise it gets a bit greasy.
---
---
---


Find more Dutch Oven Resources at DutchOvenDude.com