Stromboli Dutch Oven Recipe
Ingredients:
1/2 lb bacon (8 strips)
1/2 lb ham
3 scallions
1 11-ounce tube of refrigerated French bread dough
1 cup shredded swiss cheese
Instructions:
Cut bacon into small slices.
Heat dutch oven over coals to about 375 degrees for
Frying
.
Cook bacon in dutch oven until crisp.
When crisp, remove bacon to a paper towel.
Drain any excess grease from dutch oven and allow dutch oven to cool for safety.
Slice ham as thinly as possible (or purchase sliced ham at the deli counter)
Slice scallions thinly.
Unroll bread dough onto a floured board and stretch it in one direction as much as possible without tearing.
Spread ham over dough, leaving at least 1/2 inch on one long edge uncovered.
Spread bacon, onions, and cheese over ham.
Starting with the edge opposite the uncovered long edge, roll the dough back into a loaf shape.
Press the outside seam edge closed.
When the dutch oven is cool enough to not get burned, place the loaf into the dutch oven, seam down, making a circle with the ends meeting.
Press the ends together to make a complete circle.
Cover with the dutch oven lid and
Bake
at about 350 degrees for about 30 minutes, until the dough is golden.
Remove the lid and let the Stromboli cool for a few minutes before slicing.
Serves 4.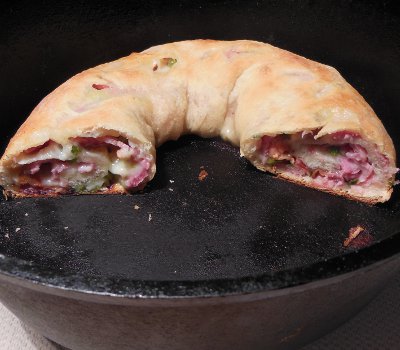 ---
All recipes use a 12-inch dutch oven, unless specified.
If you have a 10-inch dutch oven, use about 2/3 to 3/4 of the ingredient amounts but keep the temperature and time about the same.
If you have an 8-inch dutch oven, use about 1/2 of the ingredient amounts but keep the temperature and time about the same.
If no temperature is listed, use 350 degrees.
See
Heat Settings
page for temperature and coal placement
for
Frying, Stewing, Roasting, Baking, and Simmering
.
Let me know how you enjoyed your Stromboli!
Send a photo of your meal to
so I can add it here.
Get 66 favorite recipes in my new dutch oven cookbook.

Click one to vote:
Did you like it?


Or hate it?

Next Recipe
Main Recipes Page


Find more Dutch Oven Resources at DutchOvenDude.com