Huevos Rancheros Dutch Oven Recipe
Ingredients:
4 slices bacon
1 onion
3 jalapeno peppers
1 10-ounce can of diced tomatoes and chilies
1 1/2 cups shredded cheese
8 eggs
salt and pepper
8 small flour tortillas
Instructions:
Heat dutch oven to about 375 degrees for
Frying
.
Cut bacon into small pieces and fry until well done.
Dice onion.
Remove stem and seeds from jalapenos and dice them into small pieces.
Reduce heat under the dutch oven to about 300 degrees.
Add onion and jalapenos, and stir for 5 minutes.
Add undrained can of tomatoes, and stir for 10 minutes.
Sprinkle cheese over mixture.
Crack eggs over cheese, distributing them evenly.
Break the yolks, if preferred.
Season with salt and pepper.
Put lid on dutch oven and move some of the heat to the lid to
Bake
at about 350 degrees for about 15 minutes, until eggs are firm.
When eggs are firm, lay a stack of tortillas on eggs.
Replace lid and cook for another 5 minutes until tortillas are warm.
Place a tortilla on a plate and scoop about 1 egg plus sauce from the dutch oven. Flip the egg onto the tortilla, so the sauce is on top.
Makes 4 2-egg servings.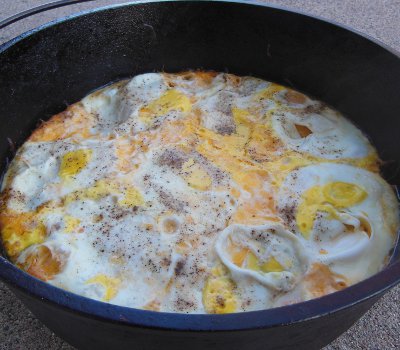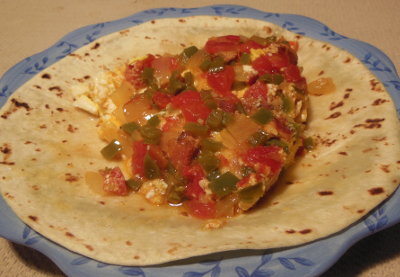 ---
All recipes use a 12-inch dutch oven, unless specified.
If you have a 10-inch dutch oven, use about 2/3 to 3/4 of the ingredient amounts but keep the temperature and time about the same.
If you have an 8-inch dutch oven, use about 1/2 of the ingredient amounts but keep the temperature and time about the same.
If no temperature is listed, use 350 degrees.
See
Heat Settings
page for temperature and coal placement
for
Frying, Stewing, Roasting, Baking, and Simmering
.
Let me know how you enjoyed your Huevos Rancheros!
Send a photo of your meal to
so I can add it here.
Get 66 favorite recipes in my new dutch oven cookbook.

Click one to vote:
Did you like it?


Or hate it?

Next Recipe
Main Recipes Page
---
Comments:
Feb 27, 2017 - Darryl Alder
I love this recipe. With your permission, I would like to share it with our readers at voiceofscouting.org
---
---
---


Find more Dutch Oven Resources at DutchOvenDude.com