Chicken Enchilada Pie Dutch Oven Recipe
Required:
12-inch dutch oven
Ingredients:
3 12oz. cans of white chicken meat
2 tsp Seasoned salt
1 10oz. can tomato soup
2 10oz. cans of enchilada sauce
1 lb frozen or canned corn
1 small can sliced or crumbled black olives
1 onion
1 cup water
1 lb shredded cheddar or mozzarella cheese
8 11-inch flour tortillas
extras: green onions, tomatoes, olives, sour cream, whatever sounds good
Instructions:
Place chicken and liquid from cans into dutch oven. Break up chicken with a fork.
Add salt, condensed soup, enchilada sauce, corn, olives, onions and water to make a sauce.
Heat to
Simmer
at 225 degrees for 15 minutes, stirring occasionally.
Remove about 3/4 of the sauce into bowl or pot, leaving a layer in the dutch oven.
Sprinkle a layer of cheese over mixture remaining in dutch oven.
Lay two tortillas on cheese.
Spread 1/4 of the sauce from the bowl over the tortillas, then sprinkle cheese, then 2 more tortillas.
Repeat sauce, cheese and tortillas until tortillas are gone.
End with sauce and cheese on top.
Put lid on dutch oven and
Bake
at 350 degrees for 30 minutes.
Serves 8.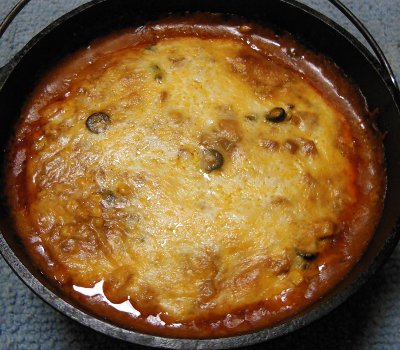 ---
All recipes use a 12-inch dutch oven, unless specified.
If you have a 10-inch dutch oven, use about 2/3 to 3/4 of the ingredient amounts but keep the temperature and time about the same.
If you have an 8-inch dutch oven, use about 1/2 of the ingredient amounts but keep the temperature and time about the same.
If no temperature is listed, use 350 degrees.
See
Heat Settings
page for temperature and coal placement
for
Frying, Stewing, Roasting, Baking, and Simmering
.
Let me know how you enjoyed your Chicken Enchilada Pie!
Send a photo of your meal to
so I can add it here.
Get 66 favorite recipes in my new dutch oven cookbook.

Click one to vote:
Did you like it?


Or hate it?

Next Recipe
Main Recipes Page
---
Comments:
Mar 07, 2017 - Barry
Made this for my first dutch oven cooking experience. Added a can of Rotel and a can of ranch beans. Probably should have cut back on the added water ... it was a little juicy. But delicious. I look forward to trying your other receipes. Great site.
---
Apr 28, 2018 - Carmella Goodman
Love Dutch oven cooking, but currently do not own one. I have a rock crock from Pampered Chef that can withstand really high heat so I'm going to try your recipe in that until I get a Dutch oven. Thank you for sharing your recipes!
---
---
---


Find more Dutch Oven Resources at DutchOvenDude.com