Meatball Subs Dutch Oven Recipe
Ingredients:
1 small onion
1 egg
2 pounds ground beef
1/2 cup bread crumbs
1 tsp oregano
1 tsp basil
1/4 tsp garlic powder
16 small French rolls
3 cups of spaghetti sauce
8 ounces mozzarella cheese
Instructions:
Chop onion to make 1/4 cup.
In a large bowl, beat egg with a fork.
Mix chopped onion, ground beef, bread crumbs, oregano, basil, and garlic powder into the egg using your clean hands.
Knead meat mixture until well blended.
Form meat mixture into 48 small balls, about an inch or an inch and a half across.
Place meatballs in a single layer in the dutch oven over coals and
Fry
at about 375 degrees until well browned, about 10 to 15 minutes.
Pour spaghetti sauce over meatballs and stir once to mix.
Put lid on the dutch oven and
Simmer
at about 225 degrees until the sauce is steaming.
Shred cheese.
Slice all the rolls.
Serve 3 meatballs and sauce with cheese sprinkled on top, inside each sliced roll. You might split each meatball so it doesn't roll out of the bun too easily.
Serves 8.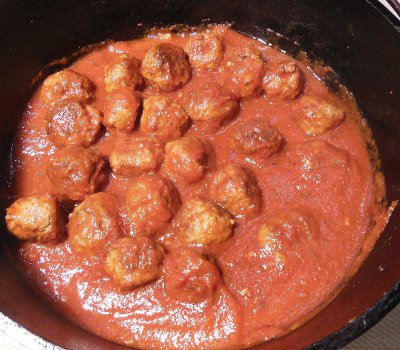 ---
All recipes use a 12-inch dutch oven, unless specified.
If you have a 10-inch dutch oven, use about 2/3 to 3/4 of the ingredient amounts but keep the temperature and time about the same.
If you have an 8-inch dutch oven, use about 1/2 of the ingredient amounts but keep the temperature and time about the same.
If no temperature is listed, use 350 degrees.
See
Heat Settings
page for temperature and coal placement
for
Frying, Stewing, Roasting, Baking, and Simmering
.
Let me know how you enjoyed your Meatball Subs!
Send a photo of your meal to
so I can add it here.
Get 66 favorite recipes in my new dutch oven cookbook.

Click one to vote:
Did you like it?


Or hate it?

Next Recipe
Main Recipes Page


Find more Dutch Oven Resources at DutchOvenDude.com