Granny's French Toast Dutch Oven Recipe
Ingredients:
3 apples - Granny Smith works well
1 loaf of French bread
1 Cup brown sugar
1/2 Cup butter
3 tsp cinnamon (divide into 1 tsp and 2 tsp)
1/2 Cup dried cranberries
6 eggs
1 1/2 cups milk
1 Tbsp vanilla
Instructions:
Peel, core, and thinly slice the apples.
Cut bread into 1 inch thick slices.
Heat dutch oven to 225 degrees on coals for
Simmering
.
Melt butter in dutch oven.
Stir in brown sugar and 1 tsp of cinnamon.
Remove dutch oven from the heat.
Stir in apples and cranberries to coat, then press them flat.
Lay slices of bread on top, cut side up, making one completely filled layer, trying to pack all the empty spots.
Beat eggs and mix in milk, vanilla, and 2 tsp cinnamon.
Pour egg mixture over bread.
Put lid on dutch oven and wait at least 1 hour for bread to soak up the eggs. Overnight is fine if you can refrigerate it.
Bake
at about 350 degrees for about 1 hour.
When serving a slice, flip it upside down onto the plate so the fruit and sugar is on top.
Serves 8-10.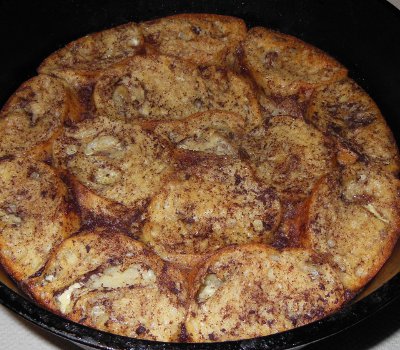 ---
All recipes use a 12-inch dutch oven, unless specified.
If you have a 10-inch dutch oven, use about 2/3 to 3/4 of the ingredient amounts but keep the temperature and time about the same.
If you have an 8-inch dutch oven, use about 1/2 of the ingredient amounts but keep the temperature and time about the same.
If no temperature is listed, use 350 degrees.
See
Heat Settings
page for temperature and coal placement
for
Frying, Stewing, Roasting, Baking, and Simmering
.
Let me know how you enjoyed your Granny's French Toast!
Send a photo of your meal to
so I can add it here.
Get 66 favorite recipes in my new dutch oven cookbook.

Click one to vote:
Did you like it?


Or hate it?

Next Recipe
Main Recipes Page
---
Comments:
Jun 06, 2017 - Joel Reyes
I made this for our scouts and everyone agreed it was the best french toast they'd ever eaten in their lives! And some of these scouts have spent a lot of time eating french toast. I even pan fried the leftovers the following day and that was just as good! It didn't even need syrup, it was amazing.

Paul, I really love your cookbook and can't wait to try more of your recipes. I think I'll go to the next level and buy a 14" DO to cook with under my 12" DO.
---
Jun 07, 2017 - Dutch Oven Dude
@Joel - Great! I'll let my mom know you liked her recipe. :-)
---
---
---


Find more Dutch Oven Resources at DutchOvenDude.com