Cup Cakes Dutch Oven Recipe
Ingredients:
1 package of cake mix
1 1/4 cups water
1/2 cup vegetable oil
3 eggs
10 paper cups, 3-inch diameter
Various toppings, such as coconut, chocolate chips, cherries, candy sprinkles, Red Hots, Skittles, or M&Ms
Instructions:
Beat cake mix, water, vegetable oil, and eggs in a bowl for two minutes, until it is smooth with no lumps.
Pour about a quarter of an inch of water into the bottom of the dutch oven.
Write each person's name on a paper cup for identification later.
Pour cake batter into paper cups, filling each one with about 1/3 cup of batter. Be sure they are no more than 1/2 full or the cake will expand out of the cup.
Each person adds whichever toppings they would like to their cupcake. They can either mix them in or leave on top.
Place 10 paper cups with batter into the water bath in the dutch oven. Ten 3-inch diameter cups fit perfectly in a 12-inch dutch oven.
Heat dutch oven for
Baking
to about 350 degrees.
Bake
at about 350 degrees for about 25 minutes.
Poke a toothpick into some of the cupcakes. Poke it all the way to the bottom because the bottom tends to take longer to cook than the top. If it comes out clean, they are done.
Serves 10.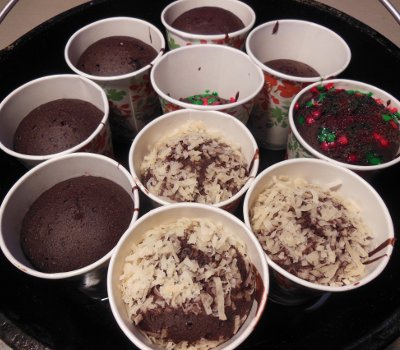 ---
All recipes use a 12-inch dutch oven, unless specified.
If you have a 10-inch dutch oven, use about 2/3 to 3/4 of the ingredient amounts but keep the temperature and time about the same.
If you have an 8-inch dutch oven, use about 1/2 of the ingredient amounts but keep the temperature and time about the same.
If no temperature is listed, use 350 degrees.
See
Heat Settings
page for temperature and coal placement
for
Frying, Stewing, Roasting, Baking, and Simmering
.
Let me know how you enjoyed your Cup Cakes!
Send a photo of your meal to
so I can add it here.
Get 66 favorite recipes in my new dutch oven cookbook.

Click one to vote:
Did you like it?


Or hate it?

Next Recipe
Main Recipes Page
---
Comments:
Oct 15, 2017 - ScoutMom
Can you make the batter the night before and place in Ziplock before since there is not electricity where we are camping?
---
Oct 16, 2017 - Dutch Oven Dude
@ScoutMom - You just need a fork or spoon to beat the cake mix. I don't see why you couldn't mix it at home if you prefer as long as you refrigerate it.
---
---
---


Find more Dutch Oven Resources at DutchOvenDude.com