Citrus Chicken Dutch Oven Recipe
Ingredients:
2 Tbsp olive oil
3 skinless, boneless chicken breasts
1 small onion
2 Tbsp minced garlic
1 apple
1 orange, or 2 clementines
1 1/2 cups uncooked rice
3 cups water
1 small lemon, or 1 Tbsp lemon juice
1 tsp cinnamon
1/2 tsp nutmeg
1/2 tsp curry powder
1/2 tsp salt
Instructions:
Cut chicken into cubes.
Peel and slice onion.
Peel orange and separate into segments.
Cut each orange segment in thirds, or halves if using clementines.
Core apple and cut into pieces about the same size as orange pieces.
Pour olive oil into dutch oven and heat over coals to about 375 degrees for
Frying
.
Add chicken, onion, and garlic.
Cook for 10 minutes, stirring often.
Add water.
Cut lemon in half and squeeze about 1 tablespoon of juice into the dutch oven, being careful to keep the seeds out.
Mix in apple, orange, rice, and spices.
Put lid on the dutch oven and lower heat to about 225 degrees for
Simmering
.
Simmer for about 40 minutes, until rice is soft.
Serves 6.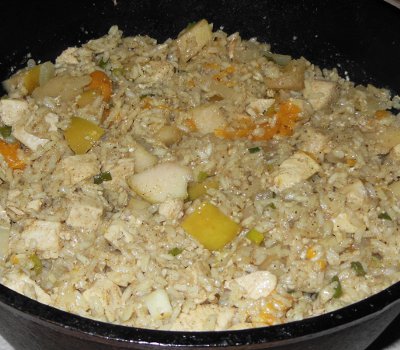 ---
All recipes use a 12-inch dutch oven, unless specified.
If you have a 10-inch dutch oven, use about 2/3 to 3/4 of the ingredient amounts but keep the temperature and time about the same.
If you have an 8-inch dutch oven, use about 1/2 of the ingredient amounts but keep the temperature and time about the same.
If no temperature is listed, use 350 degrees.
See
Heat Settings
page for temperature and coal placement
for
Frying, Stewing, Roasting, Baking, and Simmering
.
Let me know how you enjoyed your Citrus Chicken!
Send a photo of your meal to
so I can add it here.
Get 66 favorite recipes in my new dutch oven cookbook.

Click one to vote:
Did you like it?


Or hate it?

Next Recipe
Main Recipes Page
---
Comments:
May 24, 2016 - Tom
I tried the citrus chicken and could not get the rice to absorb the water. Cooked it 75 min but the rice was still hard.
Any thoughts?

Thanks

Tom
---
May 24, 2016 - Dutch Oven Dude
@Tom - You might check the instructions on your rice to see how much water it says to use. Plain white rice that I use is a 1 part rice to 2 parts water preparation - maybe yours is less.
---
---
---


Find more Dutch Oven Resources at DutchOvenDude.com