Chicken Pot Pie Dutch Oven Recipe
Required:
4 Tbsp oil
1.5 lb. chicken breast meat (or 2 12oz. cans)
2 tsp minced garlic (or 4 cloves)
1 onion
4 potatos
3/4 cup milk (or 1/4 cup powdered milk and 3/4 cup water)
1/4 cup flour
2 cans Campbell's cream of chicken soup
2 tsp poultry seasoning (McCormick's)
1 lb. mixed vegetables (carrots, corn, peas)
1 tube refrigerated crescent rolls
Instructions:
Dice chicken.
Put oil in dutch oven and heat to 375 degrees for
Frying
.
Add chicken and garlic.
Stir until chicken is done. If using canned chicken, heat for about 5 minutes.
While cooking chicken, dice potatoes and onion.
Add potatoes and onion to chicken; stir for 10 minutes.
Mix milk and flour in a cup.
Add milk mixture and all ingredients except crescent rolls to chicken mixture.
If it seems too thick, add more water.
Bring chicken mix to a boil while stirring.
Unroll crescent rolls and create a dough layer on top of the chicken mix.
Put lid on dutch oven and
Bake
at about 350 degrees.
Check at 20 minutes, then every 5 to 10 minutes. Pot Pie is done when rolls are golden brown and flake.
Serves about 6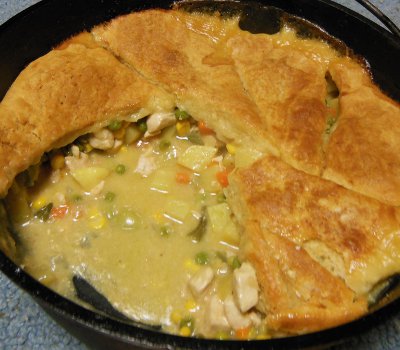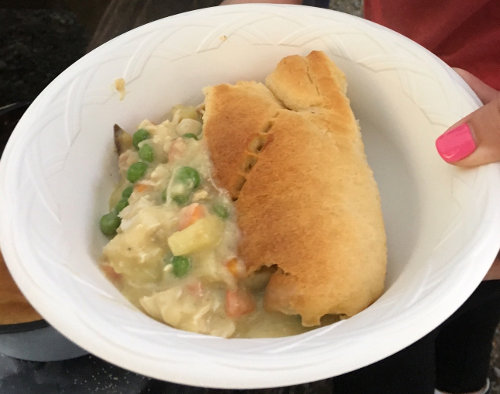 photo by Kelsey S.
---
All recipes use a 12-inch dutch oven, unless specified.
If you have a 10-inch dutch oven, use about 2/3 to 3/4 of the ingredient amounts but keep the temperature and time about the same.
If you have an 8-inch dutch oven, use about 1/2 of the ingredient amounts but keep the temperature and time about the same.
If no temperature is listed, use 350 degrees.
See
Heat Settings
page for temperature and coal placement
for
Frying, Stewing, Roasting, Baking, and Simmering
.
Let me know how you enjoyed your Chicken Pot Pie!
Send a photo of your meal to
so I can add it here.
Get 66 favorite recipes in my new dutch oven cookbook.

Click one to vote:
Did you like it?


Or hate it?

Next Recipe
Main Recipes Page
---
Comments:
Jan 20, 2016 - Joe D
Made this recipe this evening, it was excellent, thanks!
---
Apr 15, 2016 - Teresa H
I made this for the family tonight. It was a hit. I'll use this again the next time we're camping.
---
Nov 30, 2016 - S13A
Every time I make this c - pot pie it's awesome. Thanks for an easy legit recipe Dutch Oven Dude.
JP B
---
Nov 30, 2016 - Tom
Good but needed salt and had trouble getting the potatoes done all the way through.
---
Feb 12, 2017 - Robb
Made this tonight. I am not a chicken pot pie fan, but this was really good and will be made again.
---
Mar 14, 2017 - Joe
Approximately how long does this recipe take? I am very new to DO cooking and I wouldn't want to be eating dinner at 9:30 instead of 6:00. Thank you!
---
Mar 14, 2017 - Dutch Oven Dude
@Joe - Once you have your coals ready and dutch oven warmed up, it takes about 60 to 75 minutes. Add another 15 minutes if you are cooking raw chicken instead of using canned.
---
Apr 26, 2017 - mason
I made this over the last weekend for a camping trip. Pre- cooked my chicken and diced everything at home and bagged it, and went with the powdered milk for ease of packing. Needed a little salt and pepper but was definitely one of the best DO recipes I've made.

Tip: Do not drain your chicken, the extra moisture was perfect.
---
Apr 28, 2017 - Dutch Oven Dude
@Mason - Packaging everything at home can sure make the cooking at camp more relaxing, and less garbage to pack.
Last year, I got to cook three D.O.s worth of
Cowboy Stew
,
Frito Casserole
, and
McPancakes
so I diced, cooked, and froze at home.
It was fun, and I got to show some youth how D.O. cooking is easy, tasty, and easy to clean up.
---
Jun 10, 2017 - Mark
This was fantastic, my son and I made this and it was a hit. Thanks for the great recipes.
---
Dec 14, 2021 - Gia McGahey
How long do you bake this in a 350 degree oven?
---
Dec 14, 2021 - Dutch Oven Dude
@Gia - Since the chicken is precooked, it should be done in about 40 minutes. Letting the top crust get brown but not burned is the goal.
---
---
---


Find more Dutch Oven Resources at DutchOvenDude.com